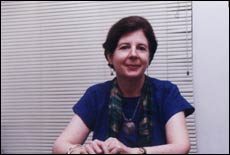 Deborah Thiagarajan, the Chairman and Founder of the Madras Craft Foundation (MCF), moved to India in 1970 to join her husband Raj Thiagarajan, Chairman, Bank of Madura. Deborah and Raj Thiagarajan met as students at the University of Pittsburgh.
She founded the Madras Craft Foundation in 1984 and the same year became convener and founder of the Tamilnadu chapter of the Indian National Trust for Art and Cultural Heritage, INTACH, a position she held for 14 years. INTACH works for the preservation of the cultural and environmental heritage of India.
Deborah ThiagarajanShe set up Madras Craft Foundation with the intention of preserving the arts, crafts and architecture of South India. Working for the Tamil Nadu Nutrition Project and CARE in the villages near Karur and Pollach, she spent a lot of time with villagers in their homes, speaking to them about their problems. She noticed a lot of crafts skills getting neglected as there was no impetus given to arts and artisans. And thus was formed her vision for the promotion and preservation of aspects of everyday art of South India, which has taken shape in the form of Dakshina Chitra. Dakshina Chitra is a heritage museum of living traditions set in an authentic 18th and 19th century architectural ambiance of each state of South India, namely Kerala, Karnataka, Tamil Nadu and Andhra Pradesh.
It has taken six years of research work to put up Dakshina Chitra. Her background in Anthropology has helped her immensely in this project. Apart from her Post Graduate work in Anthropology from the University of Rochester, Deborah holds a host of other degrees and Doctorates from the University of Pittsburgh (Masters in International and Development Education), University of Pennsylvania (Masters in South Asian Studies) and the University of Madras ( Doctorate in Ancient Indian Culture and History).
Deborah speaks four languages -French, German, Tamil and English. She is the proud mother of three lovely daughters.