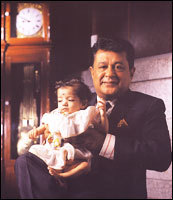 With an MBBS in 1964 and an MS in 1968, Dr K.M. Cherian headed for Australia to become a FRACS (Fellow of the Royal Australian College of Surgeons). He worked with the Railways and since then has devoted his life to serving humankind. Dr. Cherian has the rare distinction of having performed the first successful heart transplant in India in 1975. He has many more firsts to his name, including the first paediatric heart transplant and more recently, the first heart and lung transplant. He is the Director of the Institute of Cardio-Vascular diseases, Madras Medical Mission, Chennai.
He has held numerous positions both in India and abroad, including Visiting Professor at University of Oregon, USA; Senior Registrar of Greenlane Hospital, Royal Alexandria Hospital and St Vincent's Hospital, Sydney, Australia. He is the recipient of several honours including the Padmashri in 1991. He has authored several National and International publications and was the Honorary Surgeon to the President of India from 1990 to 1993. He has performed more than 17,000 operations. A very busy man and yet there is no end to the line of people wishing to consult him. He sees them all.
Dr. K. M. Cherian. Dedication personified.