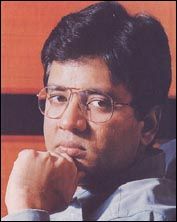 Managing Director of the Sun Network, Kalanidhi Maran is unquestionably king of Satellite Television in South India. Sun TV, which kick-started the Satellite Television revolution in the south, remains the most viewed Tamil Satellite Television Channel (despite the present clutter of several later entrants in the market).
And under the umbrella of the Sun Network, Kalanidhi Maran has a Channel for each of the South Indian states – Udaya TV and Ushe TV in Kannada, Gemini TV and Teja TV in Telugu and Surya TV in Malayalam. Also launched is a 24-hour Sun News Channel.
For this MBA from Scranton University, Pennsylvania, it all started off with 'Poomaalai' – a Tamil video newsmagazine. From there, telecasting was the next logical step. When Doordarshan's National Network seemed totally out-of-sync (with Hindi programming for the Tamil viewers), he saw the possibilities and launched Sun TV (without his own Satellite link-up at the time).
Kalanidhi's brand of leadership is marked by innovation and staying several steps ahead of competition. At a time when news programming was considered a non-revenue-generating obligation, his was the first private channel in the country to telecast a Daily News Bulletin. The phenomenal success of Sun TV's News, rewrote viewership and advertising projections.
Today, Sun TV is also the first channel in the country to set up its own earth station.
Recipient of the International Young Business Achiever award in 1999 (from the Worldcom group, New York), Kalanidhi Maran was also among the few representatives (of India's future in business) at the round table with the visiting U.S. President Bill Clinton.