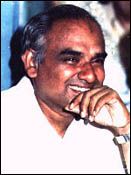 Want to know what the future holds for you? Read on.
Lion Dr. K. Parthasarathy has been making astrological predictions ever since he was eleven years young. Though his father and grandfather were astrologers, he was the first to practise it professionally. He has been practising astrology for over 25 years now.
An interesting fact is that he was a public administration student from Presidency College, Chennai. He also worked as a professor of Politics and Public administration there for three years.
He has visited numerous countries for making his predictions. He was the first to come out with 12 music cassettes for all the 12 raasis (sun signs). His client list is impressive – from Political leaders to heads of state, industrialists to actors and actresses.
Dr. Parthasarathy also conducts a three-month course on Astrology. So far 68 batches have been completed. His students now practise astrology the world over. Apart from Astrology, he also practises Numerology, Horoscope reading, ESP (Extra sensory perception), Face reading and Telepathy.
Meeting is through prior appointment.