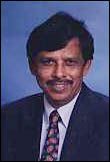 Motivator, Innovator, Writer, Trainer, Environmentalist – M. B. Nirmal is known by different names to different people. Calm, cool, down-to-earth, he is a person for whom no hurdle is too great, no problem insurmountable. He was the first to begin a drive towards civic sense and hygiene, the result of which is the famed Exnora International. Nirmal is never happy sticking to any one particular field (He began his professional life as a banker).
A renowned speaker, he gets through to people with sheer tenacity, and a superior intellect. He recently met Bill Clinton (on the latter's visit to India).
He envisions a great India. The pioneer of Seventh Sense (a programme for individual development) and Fifth Pillar (strengthening the pillars of democracy), he is the father of teamwork. He has won umpteen awards, but beneath that he is family man and brother to all. The secret of his success – the ability to convert problems into strengths. He always has a special word for everyone and warmth that you will never forget.