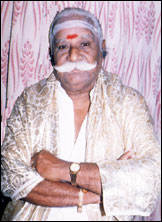 Dr I.S. Murugesh popularly known as Meesai Murugesh is the son of a great 'thavil' vidhwan (an expert percussionist) Subramaniam Mudaliar. Young Murugesan started playing the 'Kottankuchi' (coconut shell), alongside great musicians like K.P. Sundarambal, M.K.T. Bhagavathar, T.M. Soundarajan, Seerkazhi Govindarajan and other famous Tamil Carnatic singers of those days.
His amazing inventiveness in producing music from almost any kind of object has been used for thousands of songs during his 40 years in M.S. Viswanathan's music troupe. He has played instruments that he himself has invented, for songs in all regional languages. The Kadaasankari, Ekthaar, Mungoes, Dukhitharan are some of the instruments he has invented.
Some of the famous Tamil Music Directors that he has played for include S.M. Subbiah Naidu, G. Ramanathan, C S Pandu Rangan, MS Viswanathan, Ilayaraja and Kunnakudi Vaidyanathan. In Hindi he has played for Shankar Jaikishen, Lakshmikant-Pyarelal, in Telugu for Chalapathy Rao (of the 'Jaali lo jymkana' song fame).
Today he manages a one-man band 'Apoorva Thalavaithiyangal'. He has toured successfully across Europe, Canada, Germany, Russia and the United States. He also performs all over Tamil Nadu. He is the recipient of the Kalaimamani award and the honorary title of Doctor of Music has been conferred on him. He has also starred in more than 100 films.