Dora is a Tamil-language horror film directed by Dass Ramasamy and produced by A. Sarkunam. It features Nayanthara as Pavalakkodi and Thambi Ramaiah, Harish Uthaman, Shan, Tharun Kshatriya in supporting roles. This would be the second Horror movie in less than a year after Maya for Nayanthara. The film's production began in March 2016 and principal photography commenced in June 2016.
Dora Movie Crew / Team
Directed by Dass Ramasamy
Produced by A. Sarkunam, Hitesh Jhabak
Starring Nayanthara
Music by Vivek-Mervin
Cinematography Dinesh Krishnan
Edited by Gopikrishna
Production Company Sarkunam Cinemas
Distributed by Nemichand Jhabak
Dora Movie Stills / Photos
Dora Movie Working Stills
Dora Movie Poster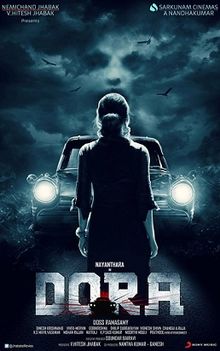 Dora Movie Trailer
Dora Movie Showtime
To know the screening location/ showtime / movie tickets of Dora Movie and other movies currently running in various Chennai theaters click on Movie Running in Chennai.