This list provides information about hospitals in the Chennai Metropolitan area. This metro area, also called CMA, includes Tambaram, Ambattur, Sholinganallur and areas like Siruseri that are considered areas within the influence area of Chennai.
Rating of Hospitals is done based on the many parameters like: Doctors Track Record, Patients feedback, Case Complexity, Equipment, Cost, Perception, Rankings, Awards, Demographic spread, Ranking in Practo, Ranking in Hue, Qualification of Doctors, Tenure of practicing doctors among others. Some of these hospitals are home to the Best Cardiologists, Pediatricians, Oncologists doctors in Chennai.
Disclaimer: This ranking is based significantly on parameters that are published on the web. But we are aware that many hospitals that do a great job rarely have patients posting online feedback. Though we have mentioned them in the list below, their ranking many not reflect the great work that they are doing. Please make your own opinion after talking to patients and your interaction with the Hospital staff and Doctors.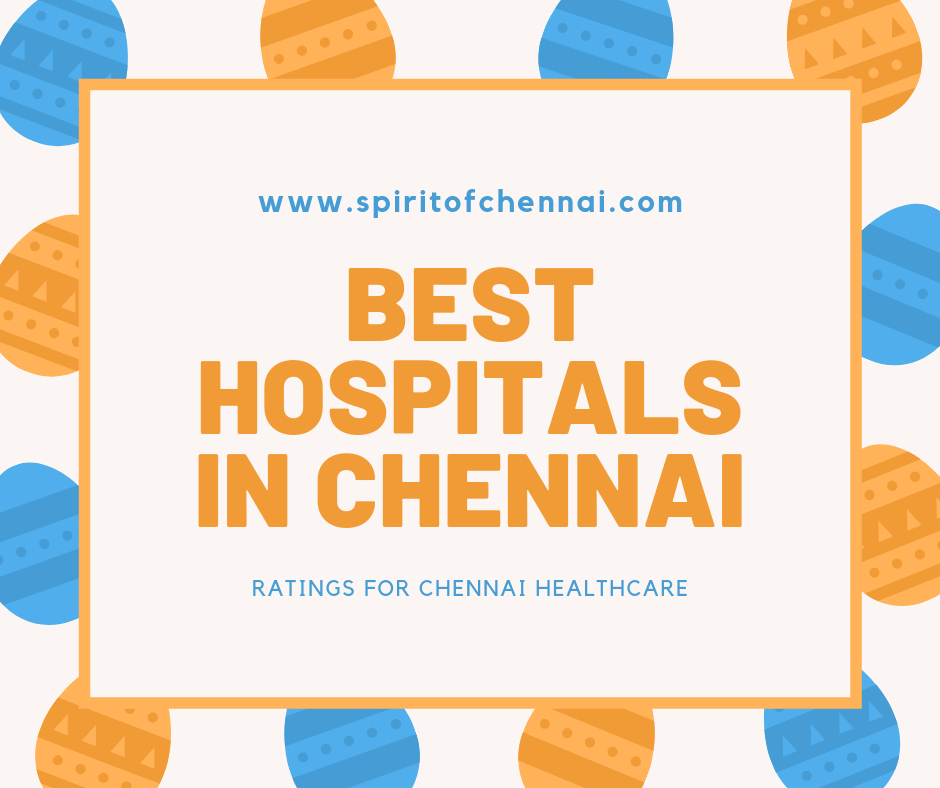 Apollo Specialty
This Apollo Group of hospitals are known for their multi-speciality care across the world. They have many hospitals across Chennai. The most famous of them is the Apollo situated in Greams Road. They have also opened a Speciality hospital for Cancer Care in Tharamani namely Apollo Proton Care.
Address: No. 21, Greams Lane 320, Off. Greams Road, Chennai – 600006
Phone-+ 91-44-2829 0200/2829 3333
Fax: + 91 44-2829-4429
Web: http://www.apollohospitals.com
Fortis Malar Hospital
Fortis Malar is situated in the banks of Adyar River. They are known for attracting the best Ortho Speciality doctors in the city.
Address: Fortis Malar Hospital 52, First Main Road, Gandhi Nagar, Adyar Adyar Chennai – 600 020
Phone: +91-44-4289-2222, Emergency No: +91-44-2491-4737
Web: http://www.fortishealthcare.com
Sri Ramachandra Medical Hospital
Sri Ramachandra Medical Centre (SRMC) is a tertiary care multi-specialty hospital with 785 beds, founded as a teaching hospital of Sri Ramachandra Medical College and Research Institute in 1985, and now as Sri Ramachandra University (Established under Sec.3 of the U.G.C. Act 1956)
Sri Ramachandra Medical Centre has an outstanding reputation for excellence in patient care for more than two decades. Keeping pace with the need of the urban and rural population, this institution has upgraded its services and has added super specialties. At present, it is at the cutting edge of treatment in a number of areas, offering ambulatory as well as in-patient services.
Some of the USP's of the the SRM hospital are:
24 hour Accident Critical Care & Emergency services with fully equipped ambulances and emergency medical technicians fully trained in cardiopulmonary resuscitation
Trauma &  Accident Services
Consultants in the prominent specialties are available in the evening clinics between 4pm to 8pm every day except Sunday.
Speech, Language & Hearing therapy including audiogram, puretone and impedence
Physiotherapy & Cardiac Rehabilitation Centre
Psychotherapy & Hypnosis
Genetic counselling
Round-the-clock dialysis services
24 hours laboratory services
Address: SRM Nagar, Kattankulathur – 603 203, Kancheepuram District, Tamil Nadu
Phone: +91-44-2745 2270,/ +91-44-2741 7777
Fax: +91-44-2745 2343
Web: http://www.srmhospitals.com
Kaliappa Hospital
Address: 52 R A Puram, Chennai, Tamil Nadu 600028
Phone: 044 24631035 / 24641111
Mobile: 9840533667
Sundaram Medical Foundation
Address: 9C Shanthi Colony, 4th Avenue, Anna Nagar, Chennai 600 040
Ph: +91 44 26268844/26144100/26144 +extn.
Fax: 26284257
Website: http://www.smfhospital.org
Sri Ramachandra Medical College and Research Centre
The Hospital has a history of providing multi speciality and tertiary care for people across the world. The hospital has now grown into a global destination for healthcare by having cross department collaboration with many leading medicals schools and hospitals like Harvard Medical school.
Address: Porur, Chennai, Tamil Nadu, India
Phone: 2476 8402
Web: http://www.srmc.edu/
Madras Medical Mission Hospital
The Madras Medical Mission is situated in Mogappair and is known as the cradle of Speciality in Cardiology. The doctors like Cherian who were pioneers in practice in this hospital created a world famous institution that Chennai can be proud of. 
The Madras Medical Mission is a Charitable Society promoted by the members of the Chennai Diocese of the Orthodox Church of India. The synergy of proficient practitioners, prudential management and providential guidance has metamorphosed the MMM into an organization of excellence that promotes some of the finest super-speciality tertiary care medical institutions in India, with superlative infrastructure, leading edge technology and accomplished professionals.

The Madras Medical Mission is dedicated to the care of the sick and promotion of health, transcending the barriers of religion, nationality, social position or financial status.

The Hospital at Chennai has more than 270 beds with state of the art facilities with 107 critical care beds to provide intensive care to the patient after surgery or angioplasty, emergency admission or other patients needing highly specialized management.

The Hospital is backed by the most advanced NABL accredited laboratories performing complete range of Investigative tests in the field of Nuclear Medicine, radiology, Biochemistry, Hematology, Transfusion Medicine and Microbiology. The facility of PET CT Scan is a new addition in our Radiology department.

The various medical units of MMM at Chennai are :
Institute of Cardiovascular Diseases
Institute of Reproductive Medicine & Women's Health
Institute of Kidney Diseases, Urology & Organ Transplantation
Institute of Gastroenterology & Liver Diseases
Institute of Cardiovascular Diseases is one of the major Total Heart Care Cardiac centres in India having 3 Cath Lab with 5 Operation suites.   We have 15 Cardiologists, 10 Cardiac Surgeons and 9 Cardiac Anesthetists on full time basis.

39467 Surgeries and 60216 Cath procedures have been done in our centre, which is considered as the largest volume in a Not-for-profit making centre.

Lot of overseas patients from neighbouring countries as well as from other developing countries  takes treatment from our Institution.

Pondicherry Institute of Medical Sciences is a Medical College cum hospital, another unit of MMM, started in the year 2000.   This 600 bed medical college hospital has got finest tertiary care facilities with all medical and surgical departments capable of doing any complex procedures.

The hospital services have kept pace with the development of the college with   super speciaity departments like Paediatric Surgery, Urology, Plastic and Microsurgery, Nephrology, Cardio-thoracic surgery, Cardiology, Neurosurgery, Neurology, Joint Replacement, Spine Surgery and Interventional radiology to name a few.   The hospital caters to patients from all across Pondicherry and neighbouring states.

MMM College of Nursing, MMM College of Health Sciences and PIMS Nursing College are the various academic institutions functioning under MMM.

MMM being a charitable society, established as a Not-for-profit organization and the main objective is to provide quality patient care to the sick and needy at affordable cost.   The Management is dedicated to ensure treatment to the poor patients who come for treatment with its own fund generated for this purpose and with the support and association of various Governmental and Non-governmental organizations.
Address: 4-A, Dr. J. Jayalalitha Nagar, Mogappair, Chennai – 600 037, India.
Phone: +91 44 26565961 , 26565801
Web: http://www.madrasmedicalmission.org
Sankara Nethralaya
The Sankara Netralaya is known for its specialisation in Eye Care. The low cost and high qualification of the doctors practicing in the hospital has seen this medical facility become a global destination for eye care. They perform as many as 250 plus cataract surgeries everyday.
Address: No. 18, College Road, Nungambakkam, Chennai – 600 006, Tamil Nadu
Ph No: +91-44-28271616 (12 lines)
Fax No:+ 91-44-28254180
Web: http://www.sankaranethralaya.org
Sir Ivan Stedford Hospital
Address: MTH Road,Ambattur,Chennai,Tamil Nadu 600 053
Phone: 044 2658 3590, Office: 91-044-26583256. Reception: 91-044-26583590
Web: http://www.stedefordhospital.org/
Government General Hospital, Chennai
No compilation of Great Hospitals in Chennai can go complete without the mention of the Rajiv Gandhi Government General Hospital. The hospital has some of the best facilities many of them even better that Private facilities. The cost of healthcare is almost nill. However, the sheer number makes operation scheduling etc… a challenge. But the the services provided are some of the best in the medical world.
Address: Poonamallee High Road, Park Town, Chennai, Tamil Nadu
Phone: 044 – 2530 5000
Email : mmcadmin@tn.gov.in
Web: http://www.mmc.tn.gov.in/
Chettinad Health City
Address: Rajiv Gandhi Salai, (OMR, Chennai), Kelambakkam, Kanchipuram Dist, Tamil Nadu 603 103 India
Tel: +91 (0)44 4741 1000
Fax: +91 (0)44 4741 1011
Web: http://www.chettinadhealthcity.com
CSI Kalyani Hospital
The CSI Kalyani Hospital is has a reputation of providing good healthcare for many decades in Chennai. The hospital is affiliated to the Church of South India Diocese. The hospital provides great healthcare at nominals costs.
Address: 15 Dr Radhakrishnan, Salai Mylapore, Chennai- 600004, Tamil Nadu
Phone: +Tel: 91-44-28476433/6199
Fax: 91-44-.28474141
Web: http://www.csikalyanihospital.com
St. Isabella Hospital
Address: Oliver Rd, Mylapore, Chennai, Tamil Nadu 600004
Phone: 044 24991081
Email: info@stisabelshospital.com
Web: http://www.stisabelshospital.in
Billroth Hospital
Address: 43, Lakshmi Talkies Road, Shenoy Nagar, Chennai – 600 030, Tamil Nadu
Phone: +91-44-26641777
Fax: +91-44-2664 6999
Web: http://www.billrothhospitals.com
Neo Life Multispeciality Hospital
The Neo Life Multi-speciality hospital located in Ram Nagar, Velachery is known for its Neo Natal Care. It has the facilities to provide tertiary care to the infants. The hospital has some very renowned practising paediatricians. The consulting fee practising there.
Read our article on Best Paediatricians in Velachery.