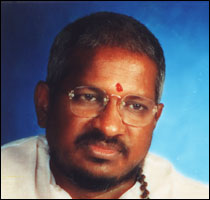 Known as 'Isaignani'(all-knowing musician) or 'Ragadevan' (God of Raagas) and many more titles, Illayaraja has scored music for nearly 700 films and composed more than 3500 film songs.
Illayaraja is a music director who works at everything. From composing to orchestration to conducting. He also does recording and balancing of tracks.
Entering the Tamil film industry in 1976, his music for the film Annakkili became a runaway hit. He can conceive and write out the entire orchestration for a song, without having to play out each part. He has scored music for Tamil, Telugu, Kannada, Malayalam, Hindi and one English film.
During his on-stage Carnatic vocal performance, he sang his own 'Kirthanas'(Songs in Carnatic music). He created the Raaga "Panchamukhi" explaining the five facets of music that included the colourful aspect of film music. Usually a song requires a minimum of five notes (swaras). He is the only music director to compose a song in just three notes.
He won the Indian National Film Music Award for his scores in the films Sagara Sangamam (1985), Sindhu Bhairavi (1987) and Rudhra Veena (1989). He is also the recipient of the prestigious Lata Mangeshkar award for the year 1998.
His first fusion music album 'How To Name It?' set a new trend in non-film-based music album making. This was followed by Nothing but the Wind and recently – India 24 hours.