The T Nagar Pedestrian Plaza was inaugurated by the Honorable Chief Minister Thiru Edapadi K Palanisami today at 6 p.m on Nov 13, 2019. He dedicated the project to the citizens in the presence of Municipal Administration and Water Supply Minister Thiru S P Velumani.
Other dignitaries present during the lauch were Mr Harminder Singh IAS – Secreatary Municipal Administration and Water Supply, Mr G Prakash IAS – Commissioner, Greater Chennai Corporation, Mr Mantri Govinda Rao – Deputy Commissioner, Greater Chennai Corporation and Mr L Nandakumar – Chief Engineer, Greater Chennai Corporation.
It must be noted the contruction of the plaza was inaugurated a while back by Municipal Administration & Water Supply(MAWS) minister Thiru Velumani in the presence of MAWS Secretary Harmander Sign I.A.S and Corporation Commissioner Thiru Karthikeyan Doss I.A.S.
About the T Nagar Pedestrian Plaza
Year of Inauguration: Novermber 13, 2019
Year of Commencement of Construction: 2018
Responsible Agency: Greater Chennai Corporation , Chennai Smart City Limited
Budget: Rs 36 Crores
Vendor / Service Provider: 3 Contractors
History of the Project
In the Hon'ble Minister announcement – 2017-18, Pedestrian Plaza at Pondy Bazaar, Theagaraya Road in T.Nagar was proposed under Chennai Smart City. In Theyagaraya nagar, ABD area of Smart city, Theyagaraya Road has been selected for establishing pedestrian plaza for promoting Non-motorized transport so as to reduce the greenhouse gas emission. Through Tamilnadu Urban Infrastructure Financial Services Limited (TNUIFSL), Consultant were appointed and Detailed Project Report were prepared. The administrative sanction for Pedestrian Plaza at an estimated cost of Rs. 33.80 crore was obtained from High Powered Project Sanctioning Committee of Chennai Smart City Limited.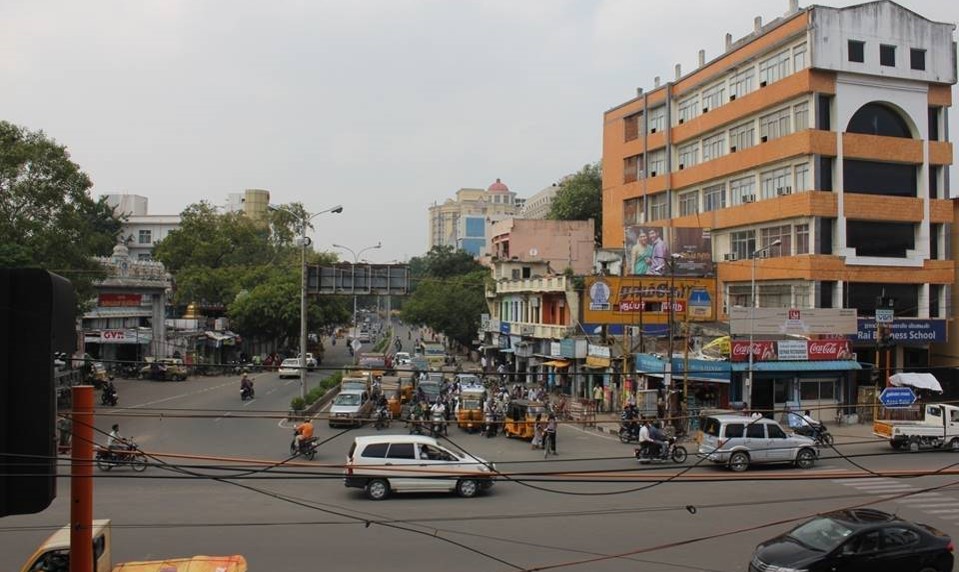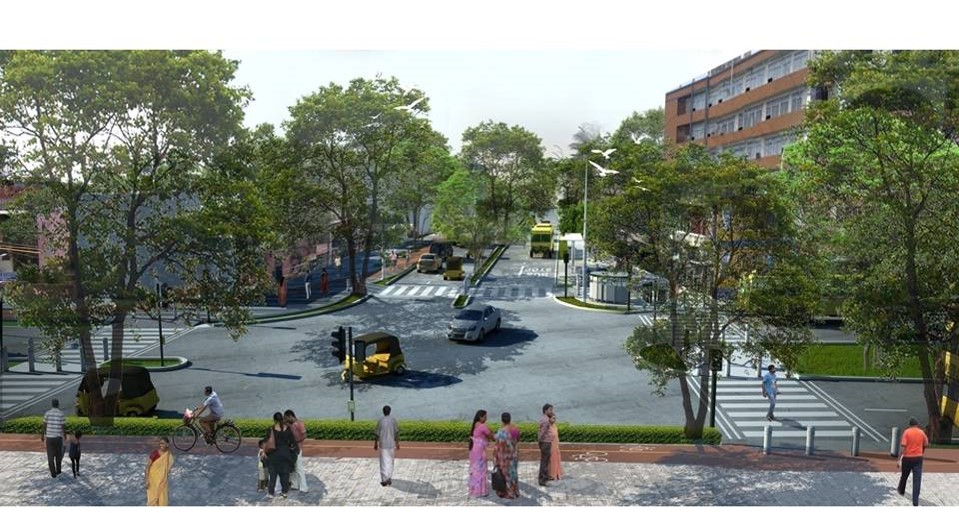 Components of Pedestrian Plaza
The main Components of Pedestrian plaza are hassle free wheel chair passage for the disabled, senior citizens and pedestrian friendly foot path, street furniture like seating arrangements, signage's, children play area, greenery, smart toilet, separate ducts for telephone and electricity cables, storm water drain on either side of the road, Bus shelter, Ornamental street lights, street art like Statue, fountain and pedestrian crossing at regular interval. All the utility pillar boxes will be re-aligned, for the free movement of pedestrians.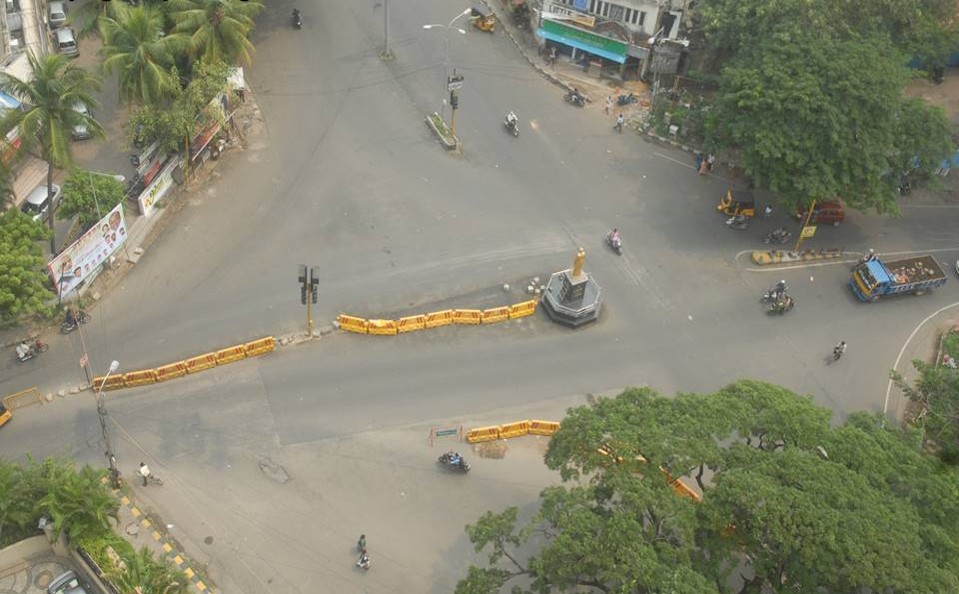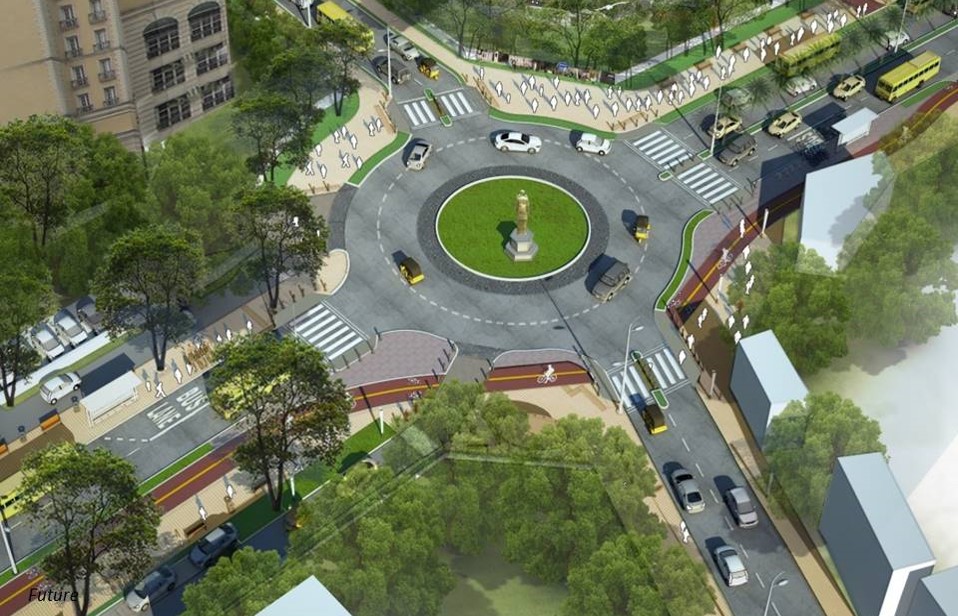 The entire stretch of Theyagaraya road has been divided into 3 reaches to facilitate quality in construction and early completion of works without causing much disturbance to the flow of traffic.
Reach 1 of Theyagaraya Road is from Panagal Park to Thanikachalam Road for a length of 730 m.
Reach 2 of Theyagaraya Road is from Thanikachalam Road to Boag Road junction for a length of 380 m.
Reach 3 Theyagaraya Road is from Boag road to Anna Salai junction for a length of 525m.
For early completion, the execution of Pedestrian Plaza would be taken up under four packages viz., Package 1 will cover Theyagaraya Road -Reach1 South, Package 2 will cover Theyagaraya Road Reach1 North, Package 3 will cover Theyagaraya Road – Reach2, Package 4 will cover Theyagaraya Road Reach 3 for which tender have been finalized and work order issued on 11.04.2018.
Detail Design of T-Nagar Pedestrian Plaza
In reach 1, the carriage way width is 7.00m (3.5+3.5) with centre median in which MTC buses and two wheeler only will be allowed to ply and 10 to 12 m wide pedestrian.
Children's Play Area is an inbuilt element in the Reach 1 section.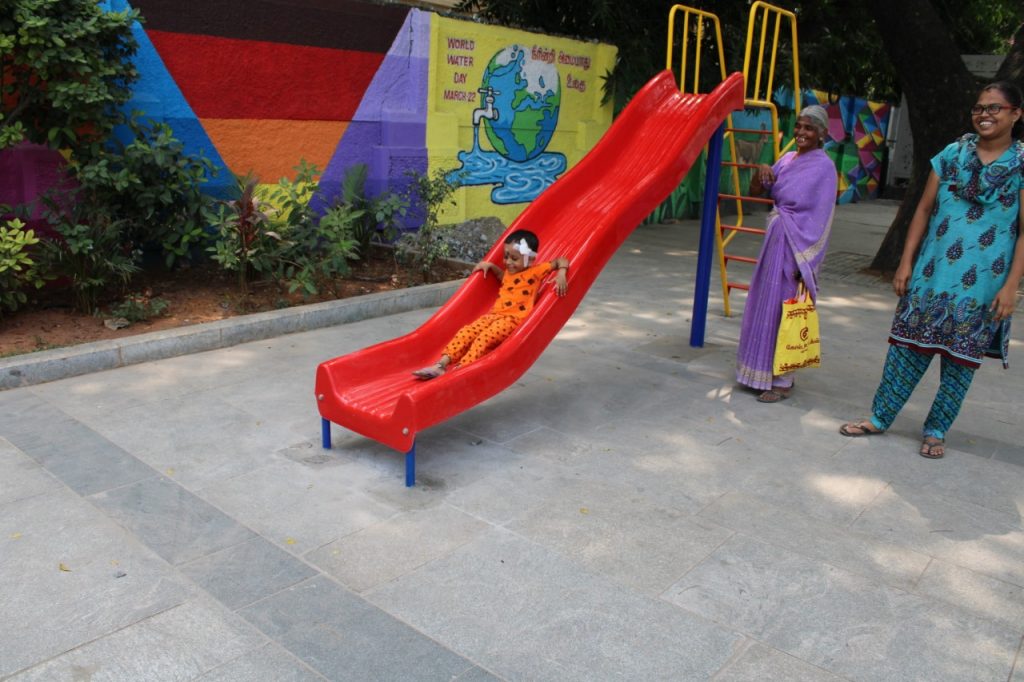 In reach 2 and 3, the carriage width is 7.50m wide on both side of the median. The width of pedestrian platform is about 3 to 4.5m. All type of vehicle will be allowed in these reaches and further, sufficient four wheeler parking provision is made.
A multi level parking facility is being constructed at the junction of Theyagraya road and Thanikachalam salai, which will take care of the parking needs of the people coming to pedestrian plaza area.
Seating Area at the Pedestrain Plaza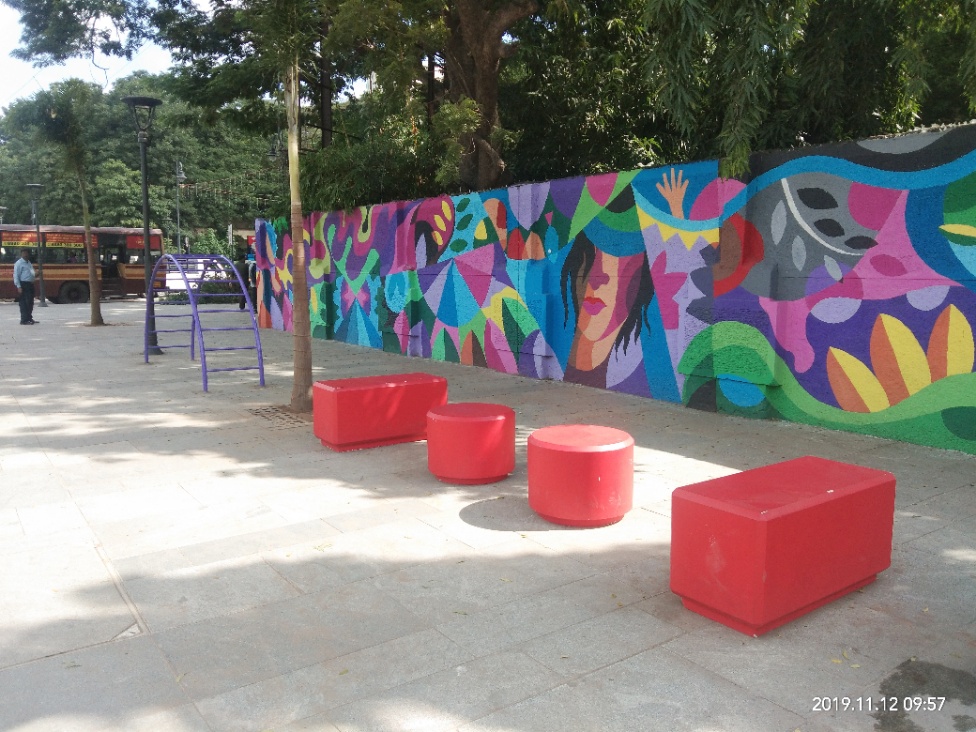 The Pedestrian Plaza is designed as an inclusive design for people from all demographics like senior citizen, disable person, Children and general public can safely make their leisure shopping with all the convenience like seating arrangement, smart Toilets and proper illumination similar to facility available in commercial mall. For the convenient of senior citizen and disabled person, battery operated shuttle service will be provided at frequent interval.
Restricting Car Parking
GCC has placed bollards to prevent cars from parking in the Pedestrain Plaza. Greater Chennai Corporation is also working on a state of the art Parking Management System to bring about a parking management control in the streets.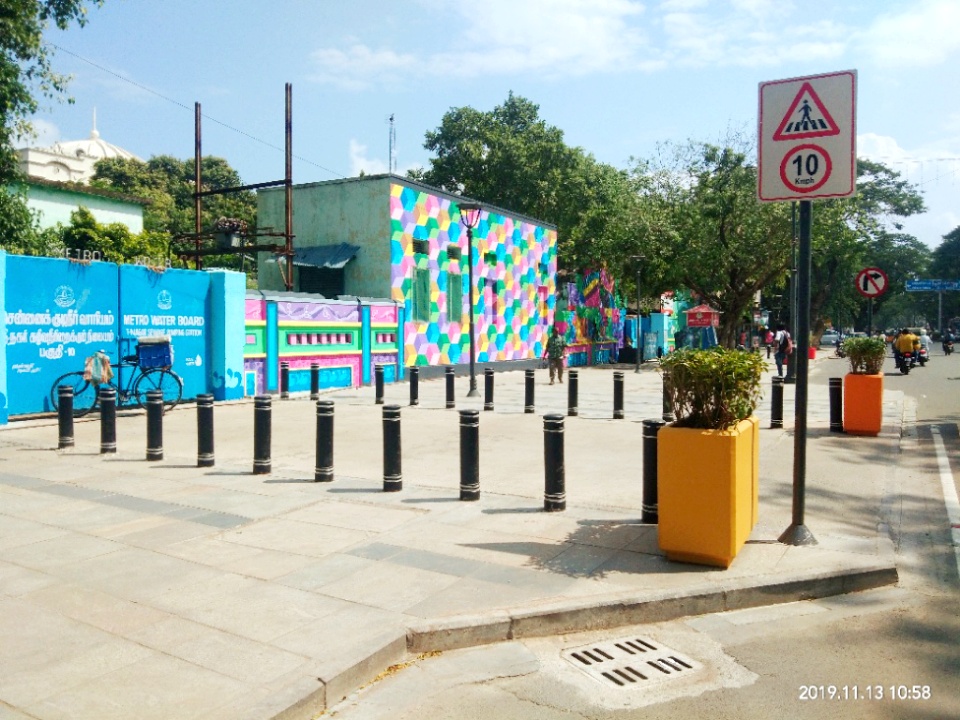 The lights places in the plaza are not visible in any other part of the city and adds a great level of beauty to the night scene.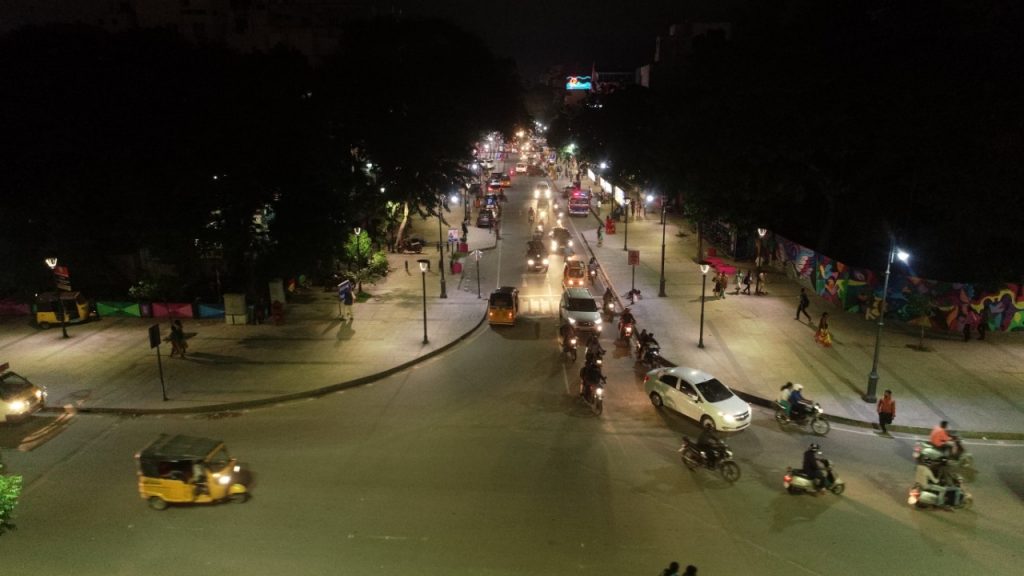 Games on the Pedestrain Plaza
The Project has some of the most innovative features carried out in Street Design in Chennai for the first time. The project has street elements for games for kids to engage with pedestrians. A cycle sharing system rack is also placed in the plaza.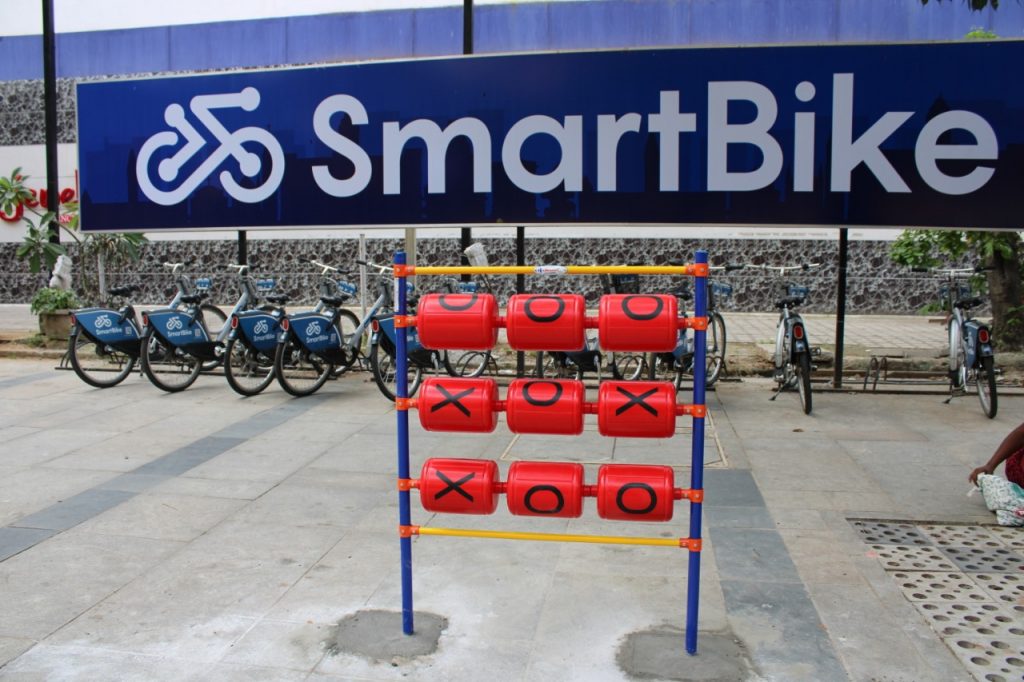 Senior Citizen Friendly
The Project also taken into account the fact that many senior citizens with mobility challlenges would need mechanized support to commute. The Greater Chennai Corporation has deployed 2 Electric Cart Buggies to chauffer citizens with mobility challenges across the plaza.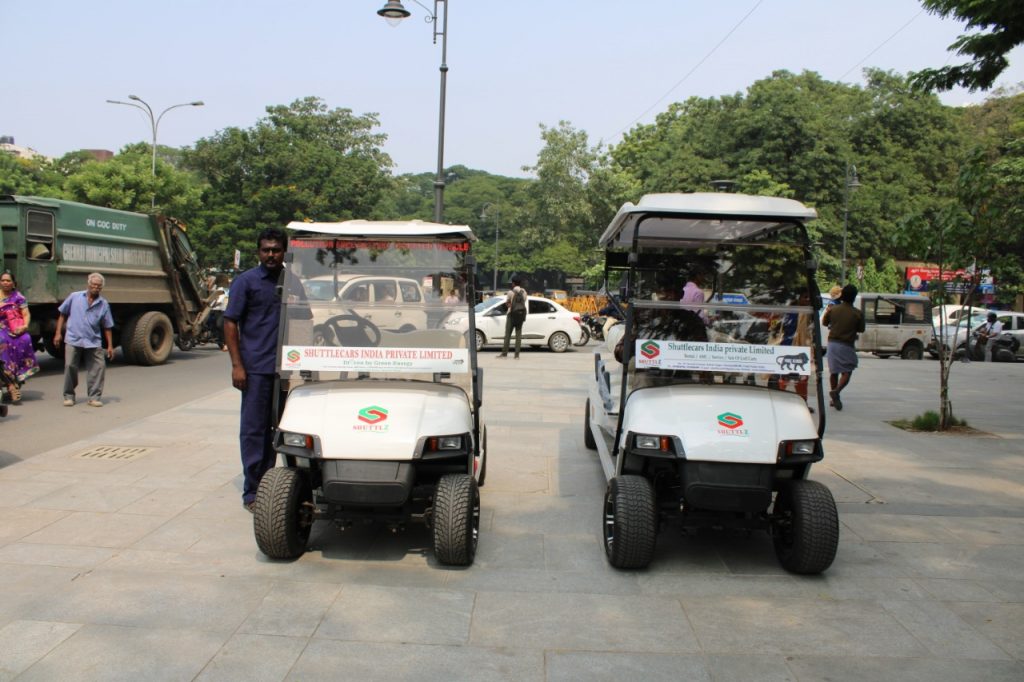 Challenges at the Plaza
Enforcement
One of the challenges identified at the plaza is the enforcement of parking related challenges. The Greater Chennai Corporation along with the Greater Chennai Traffic Police has deployed mobile vehicles for enforcement.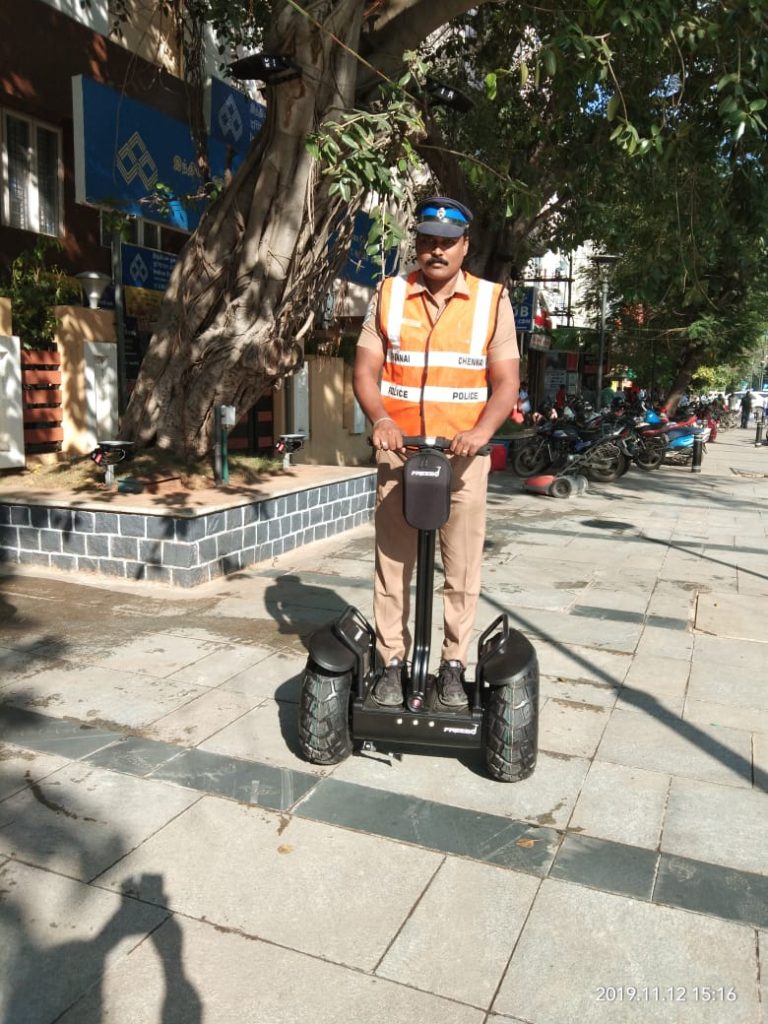 Cleaning and Upkeep
Greater Chennai Corporation has equipped specilised equipment for the cleaning and upkeep of the pedestrian plaza.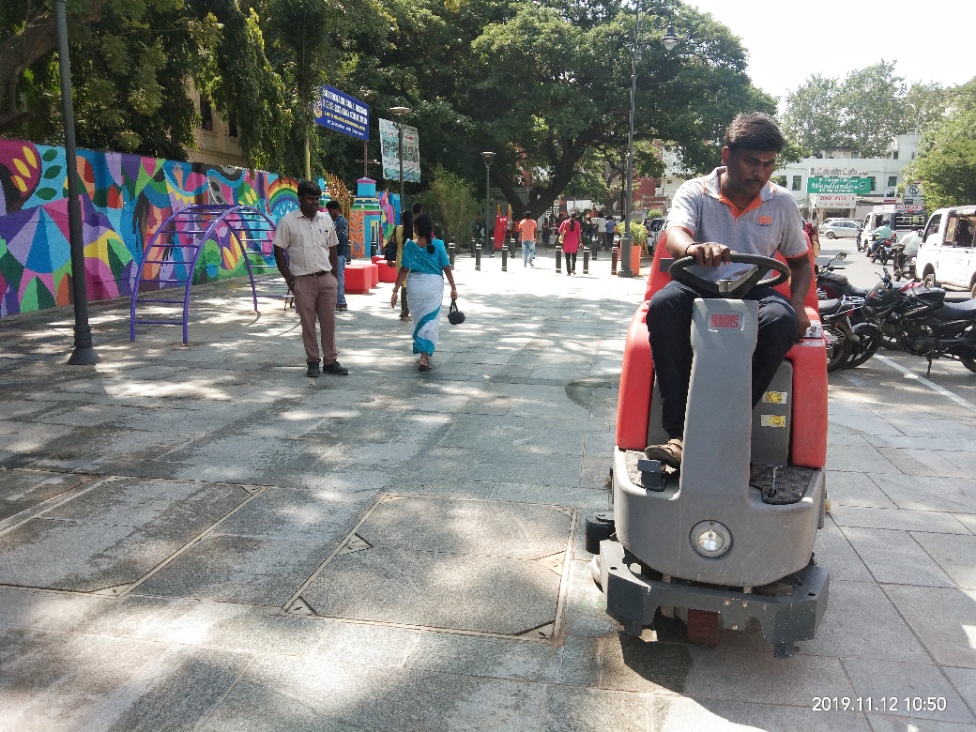 For the maintainence and upkeep of the T Nagar Pedestrain Plaza, Greater Chennai Corporation has already floated an Operation and Maintainence Contract. Under the contract a vendor will be responsible for breakage and maintenance of the plaza area for period fo 3 years.
Response of Shopkeepers
The section of the Pondy Bazaar is home to some of the famous crowd pullers. Naidu Hall, Rathan Stores, InStore, Kerala Jwellers, Big Bazaar, Palam Silks, Kala Niketan among others. The shokeepers association was involved from the start by the Engineers from Greater Chennai Corporation. They are now the biggest champions of the cause.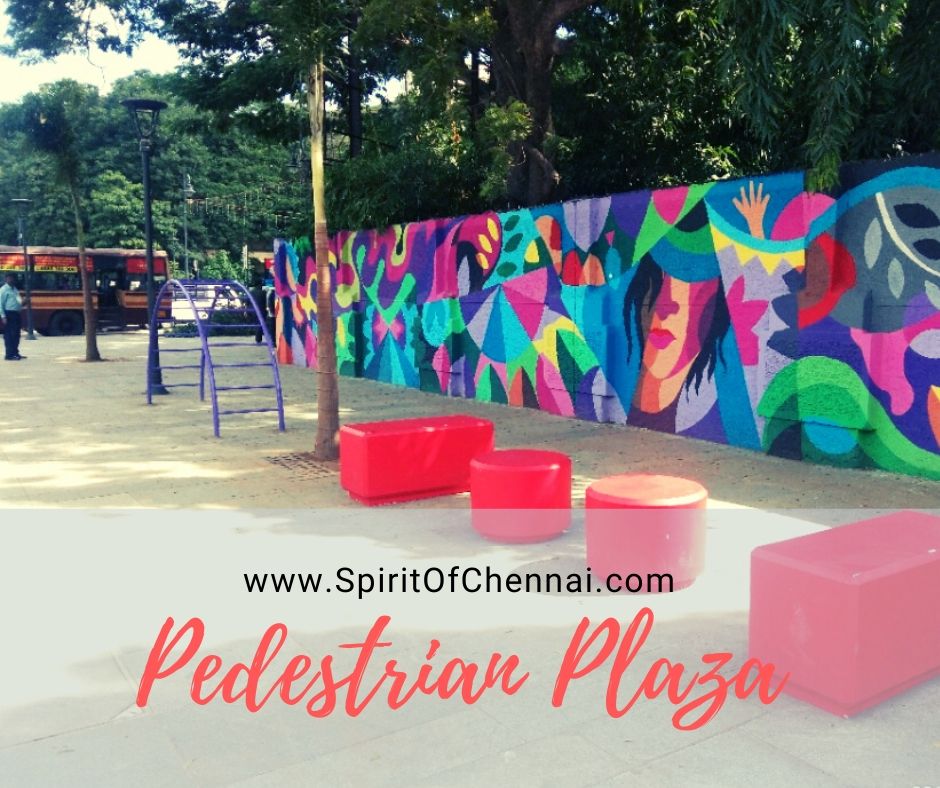 How to Get to the T-Nagar (Pondy Bazaar) Pedestrain Plaza
You can get to T-Nagar Pedestrian Plaza based on the choice of Transport and the connectivity from your section of the city.
Chennai Metro
The nearest Metro Station is Teynampet Metro Station, from where you can get an Auto or use the Public Bicyle Share to get to Pondy Bazaar.
MTC Bus
MTC Operates about 16 routes that cross Pondy Bazzar. 12G, 12B, 12BET, 12C, 47A are some of the buses operating via Pondy Bazaar.
Project Timeline
The Project was envisaged way back alomost 8 years back when 2 Deputy Planners from New York City visited Chennai. This led to a discussion to plan a project along the lines of Times Square in New York that went from a vehicle zone to a pedestrain only zone in 1 year. The project draws inspiration Las Ramblas Plaza is Barcelona, Spain.