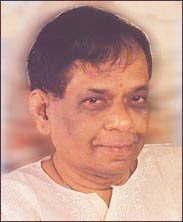 Singer, Composer and Instrumentalist 'Padmashri' Balamuralikrishna is acknowledged as a multidimensional musical genius, who transcends the limits of what can be achieved.
He was born in a small village, Sankaraguptam at Andhra Pradesh on the 6th of July 1930. Balamuralikrishna's father Pattahbiramayya was a well known musician and could play the flute,violin and veena. His mother, Suryakantamma too was an excellent Veena player.
Balamuralikrishna gave his first public recital at eight and has since mesmerised audiences the world over with his wonderfully vibrant and magnetic voice. He sings with an infectious happiness in his voice. And plays several instruments (violin, viola, khanjira, veena and mridangam) with the greatest of ease.
More significantly, Balamuralikrishna has composed new ragas. He has enriched Carnatic music with over 400 of his own compositions.
Founder of the MBK Trust, devoted to developing art and culture, Dr Balamuralikrishna has in his career, made his gift accessible to all, through his considerable number of album recordings.
For more on DR M Balamuralikrishna : www.balamuralikrishna.com