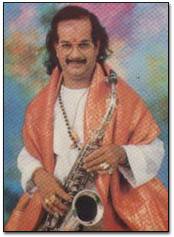 Famed Saxophone player, Kadri Gopalnath has single-handedly brought to focus the expressive power of the instrument, in Carnatic music rendition.
Born in Panemangalore (near Mangalore) in 1950, Kadri Gopalnath's introduction to music was through his father's playing the Nadaswaram (a south Indian wind instrument). Hearing the Saxophone played at the Mysore Palace, Kadri Gopalnath was smitten for life. His guru T.V. Gopalkrishnan played a significant part in harnessing the potential of the young musician.
Kadri Gopalnath was the first Carnatic musician to be invited to perform at the BBC Promenade concert in 1994 at London. He has also participated in the Jazz Festival in Prague, the Berlin Jazz Festival , the International Cervantino Festival in Mexico, the Music Halle Festival, Paris, Concerts in Switzerland, United Kingdom, USA, Canada, Bahrain, Malaysia and Singapore. Film director, K.Balachandar used his skills in the music for his Tamil film Duet. Recipient of several awards, Kadri Gopalnath has also many successful recordings to his credit.