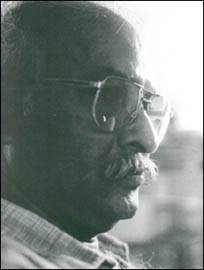 One of the most significant catalysts in the contemporary art scene in this part of India, Adimoolam has won through his art, national and international acclaim.
Born in 1938, into an agricultural family at Keerambur Village near Thuraiyur in Tiruchirapalli district, Adi's interest in drawing started when he was in primary school. Appreciation from fellow students and encouragement from his drawing teacher stoked his eagerness to become an artist. Clearly, he was more interested in drawing than in his subjects.
After coming to Chennai in 1959, he was introduced to artist and sculptor Dhanapal, who motivated him to enrol in the School of Arts and Crafts, Chennai. Adi obtained his Diploma in Advanced Painting in 1966.
At the School of Arts and Crafts, he absorbed influences from world art and the French movement of Impressionism as well as other significant movements which followed it. His willingness to experiment was evident in his portrait studies and compositions. Folk culture and the traditional art in temples had already had their impact on him through childhood experiences.
In 1966 Adi began drawing Mahatma Gandhi, in his various moods. He completed over a hundred such drawings, depicting 60 years of the great man's life. 1966 was also the year when his association with modern Tamil writers began. His drawings were published along with modern poetry and small stories. He had also done a large number of illustrations, book-cover designs and book layouts.
Adi took up full-time employment as a textile designer with the Weavers Service Centre, Chennai. He evolved a new style of drawing and as an experiment, started working with oil on canvas. Subsequently, he became interested in non-figurative compositions in black and white drawings known as the Space Series. He then began to sketch a series of pen and ink drawings with unidirectional lines. In search of greater freedom of expression he moved on to abstract paintings based on nature, where the concept was minimalised to the colours alone. Even as he was painting, he was also doing a lot of drawings.
Adimoolam says, "My drawings and paintings help express my feelings. My drawings are not the exact copy of what I have seen through my eyes; but I feel they are the impressions of beauty, which seem to constantly get imprinted on my inner vision and emerge as black and white forms on paper".
Adimoolam has been the recipient of the Lalit Kala Akademi Award, Academy of Fine Arts Calcutta Award, Bombay Art Society's Award and Hyderabad Art Society Award. His solo and group exhibitions have been held in India and abroad. Some of his works are displayed in famous art galleries including the ones at the National Art Gallery and Gandhi Museum in Chennai.
Address: K.M.Adimoolam,
2/157, East Cost Road, Injambakkam, Chennai 600 041.