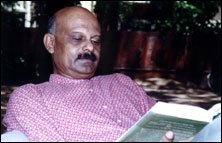 From joining the Madras Players as a stage-sweeper to becoming one of India's top English Theatre Directors, Mithran Devanesen has come a long way.
He travelled the world, picked up a Diploma in Marketing and Advertising, and won his first gold medal in Jamaica for the production of Julius Caesar. In 1986, Mithran directed a Pulitzer prize-winning play called Shadow Box, which gave theatre acting in Chennai a new style. His famous productions include Dog's Hamlet, Brahma's Hair, Arturo Ui, Midsummernight's Dream, Seven Steps Around the Fire, Dance Like a Man, and This English.
Mithran DevanesenHe has been thrice awarded the Charles Wallace India Trust Scholarship. In the last three years Mithran has worked in films – as an actor in a French production Blue Mountains, as a casting director and as an actor in an Italian film Gills.
Mithran works for underprivileged children by conducting workshops, teaching English at Corporation schools, and sponsoring scholarships for deserving students. His family runs an organisation called Roofs for the Roofless in 14 villages, south of Chennai.
He is the co-founder of The Spastics Society of India. Mithran was one of the three Chennaites chosen to address the Kargil Jawans. He is also the founder of the Bow-Wow Club, a community based children's theatre.