To answer the question of whether Chennai Smart City is working it is important to know what the mandate of Smart City and what it has achieved in the last few quarters since its inception.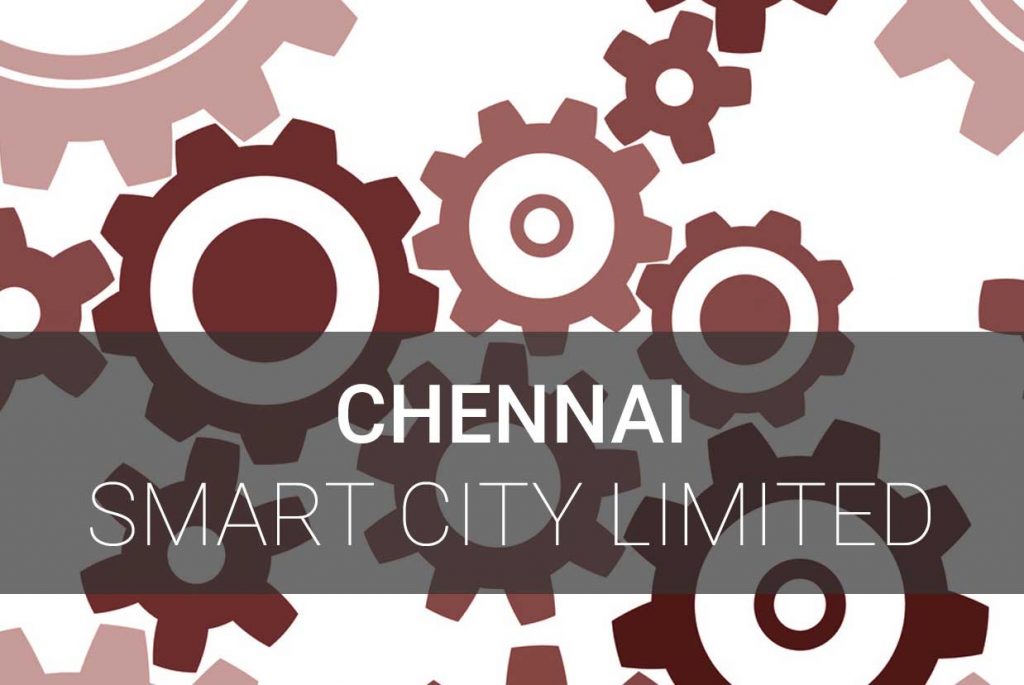 Stakeholders in Chennai Smart City
Chennai Smart City Limited (CSCL) was set with a funding arrangement as below:
| | |
| --- | --- |
| Entity | Stake |
| Union Government | 50% |
| Government of Tamilnadu | 25% |
| Greater Chennai Corporation (Urban Local Body) | 25% |
Unlike previous schemes like the JNNURM where funding was given to line agencies directly via the state nodal agency, the Smart City Mission aimed at creating an institution, that could typically cut across roles and responsibilities that are currently help by multiple city and state agencies.
Each Smart City has a Chief Executive Officer and also has a Chairman who is the Commissioner of the Municipal Body. In most smart cities the role of CEO is played by the corresponding Municipal Commissioner.
Trivia: Chennai is one of the few Smart cities where the CEO is not a bureaucrat. The CEO of CSCL is Mr Raj Cherubal of City Connect Foundation fame.
The Chairman of Chennai Smart city is the Commissioner of Greater Chennai Corporation who is Mr Karthikeyan IAS. The Managing director is Mr Govinda Rao IAS who is also the deputy commissioner (works) of Corporation of Chennai.
Institution building is not easy in Indian cities especially in the bigger cities. Organizations may wrestle for power or authority all the time. But in the nature of the way Smart Cities are set-up they are Special Purpose Vehicles (SPV's) within the municipal bodies. So most SPV's are working on projects that are largely along the lines of the function of the local body. In doing so, most smart cities are largely confined to the street related projects. So if you notice the projects of across the smart cities in India almost 100% of them have a very large focus on street improvement.
Chennai Smart City has to its credit significantly divested its projects. They are working closely with the TANGEDCO to bring Smart meters to about 1.51 lakhs residents in the T-Nagar area. CSCL is also working on the Command and Control center that will integrate many data sources from multiple departments to create intelligence for Chennai city.
CSCL along with Greater Chennai Corporation is also working closely with the revenue department to restore water bodies across the city. It is also working with GCC on creating a Pedestrian Plaza in TNagar which is planned along the lines of Times Square.
All the projects of Chennai Smart city are centered around the Liveability Index by the Smart Cities Mission.
Projects by Chennai Smart City Limited
SVL to LED Public Street Lights Conversion
The street lights that are currently powered by Sodium Vapor Lamps (SVL) are being converted to Light Emitting Diode (LED) lights. This has reduced electricity consumption and also the carbon emissions. This is an extension the SVL to LED conversion undertaken by Greater Chennai Corporation has embarked across its geography. The project has a budget of 3.44 Crores.
Namma Chennai App
The Greater Chennai Corporation has rolled out the Namma Chennai Mobile app that is available both in Google Playstore and Apple App Store. The mobile provides information about the services provided by GCC and also gives the various services online. You can get all the service provided like birth certificate, property tax etc.. online. This project is being done to improve citizen part
Smart Classroom
Chennai smart city is working to improve the infrastructure in Greater Chennai Corporation schools. As part of the initiative, CSCL and GCC have worked with Samsung India which has provided digital boards and tabs for the students and staff. The Infrastructure upgrade consisting of civil and electrical work is provided by Smart City. This project is done at a cost of 1.75 Crore.
High Resolution Drone Mapping
Chennai is probably the first Indian mega city that has drone mapping across its geography. Chennai Smart City Limited has funded this high resolution mapping exercise. This is expected to increase the tax process in the City. Currently Greater Chennai Corporation is reconciling with on-ground property assessment. This project is being done at the budget of 6.43 Crores. This project is being done to improve Governance.
23 Street Redesign
Chennai Smart City has already completed the redesign of about 23 streets in Tnagar which is 'Area Based Development' location identified by smart city. The street design has used established street design manuals. This is being done at a cost of 14.52 Crore. The streets will have better sidewalks. More green cover and provide for ducts for telecommunication and electrical lines. Most of the streets are around the Pedestrian Plaza area. This project is being done to improve walkability in Chennai.
8 Parks Redesign
To improve public urban spaces Chennai Smart City has worked on the redesign of 8 parks in the TNagar area. The parks are redesigned to improve walk-ability, green cover, increase water percolation levels among other things. This redesign is being done at a cost of Rs 9.95 Crores.
Cycle Tracks
Greater Chennai Corporation and CSCL have created about 17km of cycle track across the City. This is currently a hybrid design. This will be improved based on the feedback from Cycle users. This project is being done as an effort to improve the Non Motorized Infrastructure in the City. This project is being done at a budget of Rs 36 lakhs.
Multi Level Car Parking
Chennai Smart City and Greater Chennai Corporation are currently creating a 1.2 km long pedestrian plaza in the city. As part of the project, parking is going to be restricted or removed in most street location on the main Theyagaraya Road. To accommodate the parking demand in this region, GCC is building a Multi Level Car Park (MLCP) . This will accommodate about 300 Cars. This is done at a budget of 36.54 Crores.
Traffic Park
Chennai Smart City is building a Traffic Park near Anna Square. This is to build an environment for school children to learn traffic laws. This is being done at a budget of Rs 2.07 Crores.
Sensory Park
Chennai Smart City is building a Sensory Park in Santhome. The sensory park is done for the benefit of the Disabled citizens more particularly children. This is built for differently This is being done at a budget of Rs 1.37 Crores. This project is a great initiative of Greater Chennai Corporation.
Missing Links SWD
Greater Chennai Corporation has a very high degree of coverage of Storm Water Drains. However, there are some areas that was left out are being identified and the missing links are provided with Storm Water Drains. This is being done at a budget of Rs 9.37 Crores.
32 Water Bodies
To improve the ability of Chennai city to retain the water received during the monsoon season, CSCL is working to improve water body retention capacities across 100+ water bodies. This project is being done at a budget of Rs 5.85 Crores.
Pedestrian Plaza
The pedestrian plaza is being built for a distance of 1.3 kms in TNagar. The pedestrian plaza is modeled along the Times Square in New York. The sidewalk will be about 7m on both sides. The pedestrian plaza has 3 stretches. The first section starts from Panagal Park to Dr Nair Road junction. Only buses will be allowed in this section. The second stretch starts from Dr Nair Road junction to New Residency Towers junction. This is being done at a budget of Rs 33.80 Crores.
Villivakkam Lake
This is being done at the cost of Rs 16 Crores.
Parking Infrastructure
In an effort to improve the road conditions and reduce chaos of the roads, GCC is implementing a state of the art Parking Management System. The system will make parking availability information available via website and app. The parking violation will be checked and issued using sophisticated camera based intelligence. This is being done at the cost of Rs 7.08 Crores.
Cycle Share
To improve the NMT mode share in Chennai, GCC is creating a cycle share system with 5000 cycles in Chennai. The cycle stations will be placed across the city in about 374 locations. They will be placed next high capacity transit location to aid in first and last mile connectivity. This is being done at the cost of Rs 9.49 Crores.
Command & Control Center
Greater Chennai Corporation is working to create the next generation of Governance in the City with its planned Command and Control Center. The plan is to create an integrated convergence and intelligence engine for the city to assist in Governance. This is being done at the cost of Rs 150 Crores.
Flow Meters
This is being done at the cost of Rs 11.63 Crores.
Solar Roof Top
To improve the renewable energy mix utilization of Greater Chennai Corporation, GCC is installing solar panels on its roof top. The panels have a capacity of 5.6 MW. This is being done at the cost of Rs 43.84 Crores.
Smart Meters
This is being done at the cost of Rs 72 Crores.

Up-gradation of Public Toilets
Greater Chennai Corporation is working to do a revamp its public toilets across the city. The plan is to outsource the maintenance and upkeep to private agencies.
Based on our assessment we have to say that Chennai Smart City has possibly been the best attempt so far to improve liveability. But expecting organization to recreate a city managed by institutions that control all or most of the budget with no authority in the governance could become the lagging point for sustenance of the smart city projects in Chennai.