Best NEET Coaching Centre in Chennai: In this section we are going to cover in-depth about NEET Exam Information and Best NEET Training Institutes in Chennai.
NTA NEET – Dates to Remember
NEET 2020 Exam Date is notified to be May 3rd, 2020.
NEET 2020 registration date or last date of registration is up-to December 31st, 2019
Last date for NEET Exam Application Fees is January 1st, 2020
NEET 2020 Form of Registration can be filled out here.
NEET Exam Admit Card will be available for download from March 2nd, 2020.
Here are all the exam details you should know to Crack NEET 2020.
NEET Exam Eligibility | NEET 2020 SYLLABUS | NEET EXAM PATTERN | TN Government Free NEET Coaching | Four Best Coaching Centers in Chennai | Cost of NEET Coaching | BEST BOOKS | NEET EXAM TIPS
Medical entrance admission in India have changed significantly in the recent years. Multiple entrance exams have been replaced with a unified NEET Exam.
Before we get to review the Training Institues that offer NEET Coaching let us quickly review some basic facts about NEET Exam.
What is NEET Exam?
The National Eligibility-cum-Entrance Test-Under Graduate is a common and uniform, all-India entrance examination conducted for students who wish to study undergraduate medical and dental courses in the recognized government or private colleges in India.
Since 2019, the test is being conducted by the National Testing Agency (NTA). Prior to that, it was conducted by CBSE in partnership with Prometric Testing Pvt Ltd, in the US.
This three-hour test is conducted in nine Indian languages other than English and Hindi but the majority of students, about 80% or more take the exam in English.
The passing students are inducted into 66,000 MBBS and BDS seats across India according to their ranking.
NEET Exam Eligibility
Citizens of India, Non-resident Indians, Persons of Indian Origin, Overseas Citizens of India and foreign nations are eligible to take the NEET 2020.
The parameters for qualification are candidates should have passed 10+2 or equivalent exam from a recognized board with Physics, Chemistry, Biotechnology/Biology, and English as their core subjects.
Candidates who are appearing for the class 12 or equivalent exams are also eligible to apply.
Candidates should have completed age 17 yrs as on December 31, 2020; there is no upper age limit until ruling from the Supreme Court.
The qualifying marks are different for each category of candidates.
Marks to be considered are only the PCB subjects' aggregate marks – UR 50%, OBC/SC/ST 40%, and PWD 45%.
There is no limit on the number of attempts a candidate can take to clear the NEET test.
NEET 2020 SYLLABUS
The syllabus is of 10+2 standard and is extensive. The subjects range from Biology, Chemistry and Physics.
Physics Syllabus for NEET Exam
| | | |
| --- | --- | --- |
| S No | CLASS XI | CLASS XII |
| 1 | Behaviour of Perfect Gas and Kinetic Theory | Atoms and Nuclei |
| 2 | Gravitation | Current Electricity |
| 3 | Kinematics | Dual Nature of Matter and Radiation |
| 4 | Laws of Motion | Electromagnetic Induction and Alternating Currents |
| 5 | Motion of System of Particles and Rigid Body | Electromagnetic Waves |
| 6 | Oscillations and Waves | Electronic Devices |
| 7 | Physical world and measurement | Electrostatics |
| 8 | Properties of Bulk Matter | Magnetic Effects of Current and Magnetism |
| 9 | Thermodynamics | Optics |
| 10 | Work, Energy and Power | |
Chemistry Syllabus for NEET Exam
| | | |
| --- | --- | --- |
| S.No. | CLASS XI | CLASS XII |
| 1 | Chemical Bonding and Molecular Structure | Alcohols, Phenols and Ethers |
| 2 | Classification of Elements and Periodicity in Properties | Aldehydes, Ketones and Carboxylic Acids |
| 3 | Environmental Chemistry | Biomolecules |
| 4 | Equilibrium | Chemical Kinetics |
| 5 | Hydrocarbons | Chemistry in Everyday Life |
| 6 | Hydrogen | Coordination Compounds |
| 7 | Organic Chemistry- Some Basic Principles and Techniques | d and f Block Elements |
| 8 | Redox Reactions | Electrochemistry |
| 9 | s-Block Element (Alkali and Alkaline earth metals) | General Principles and Processes of Isolation of Elements |
| 10 | Some Basic Concepts of Chemistry | Haloalkanes and Haloarenes |
| 11 | Some p-Block Elements | Organic Compounds Containing Nitrogen |
| 12 | States of Matter: Gases and Liquids | p- Block Elements |
| 13 | Structure of Atom | Polymers |
| 14 | Thermodynamics | Solid State |
| 15 | | Solutions |
| 16 | | Surface Chemistry |
Biology Syllabus for NEET Exam
| | | |
| --- | --- | --- |
| S.No. | CLASS XI | CLASS XII |
| 1 | Cell Structure and Function | Biology and Human Welfare |
| 2 | Diversity in Living World | Biotechnology and Its Applications |
| 3 | Human physiology | Ecology and environment |
| 4 | Plant Physiology | Genetics and Evolution |
| 5 | Structural Organisation in Animals and Plants | Reproduction |
NEET Exam Pattern 2020
NEET Exam is a three-hour Objective OMR test.
Total number of questions asked is 180:
90 questions from Biology
45 each from Physics
45 from Chemistry.
The marks to be allocated for Biology, Physics and Chemistry are 360, 180 and 180, respectively.
Biology is further divided into Zoology and Botany sections with 45 questions from each.
The questions are only of objective type with each correctly marked question having four marks and one mark deducted for every wrong answer.
Which syllabus chapters are given more weight?
To Important chapters in Biology are plant and human physiology, genetics & evolution, ecology & environment, biotechnology and its applications, biology and human welfare.
The Important Chapters in Physics are hermodynamics, optics, laws of motion, electrostatics, atoms and nuclei.
The Important Chapters in Chemistry are organic and environmental chemistry, electrochemistry, chemistry in everyday life, biomolecules, and classification of elements
A complete list neet exam question paper model is available on the NTA webpage nta.ac.in and can be easily accessed on Google as well.
NEET Exam for what?
Why need NEET exam?
NEET Exam is for those who wish to study or Practice Medicine (M.B.B.S) or AYUSH (Ayurveda) in India .
The National Eligibility cum Entrance Test (UG) is a new qualifying cum entrance examination notified under the 'Regulations on Graduate Medical Education 1997 and BDS Course Regulations, 2007' by the Medical Council of India as published in the Gazette of India Extraordinary dated 21st December, 2010 and 15st February, 2012 and the Dental Council of India as published in the Gazette of India Extraordinary dated 31st May, 2012.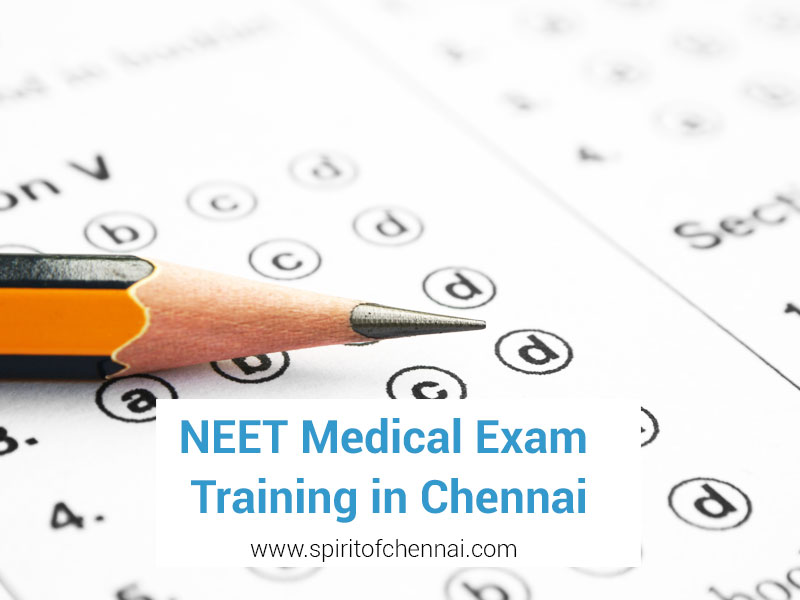 Previously students who studied M.B.B.S in non-Indian countries like Russia, China, Nepal, Indonesia,… were allowed to practice in India after completion of their medical college degree. However now under the new law, degrees from these non-Indian colleges will be valid only after NEET Exam Score.
It is impossible to become a doctor without a NEET Exam Certificate.
NEET Medical Exam Training in Chennai
The NEET exam syllabus is generally of the NCERT / CBSE 11th and 12th standard. So students currently studying from Tamil Nadu state syllabus and other state boards may have to to tweak their preparation in order to align their studies. Some of the Best CBSE Schools in Chennai already offer NEET training as part of their school curriculum to the students of Class 11 and 12.
Irrespective of the Board of Education whether it is Tamilnadu, Karnataka, Kerala or Maharashtra the syllabus is generally about 80-85% same. You will only have to identify the gaps and variations and prepare accordingly.
Average Coaching Fees for NEET Training
The NEET Exam training ranges from Rs 15000 for a correspondence course to upto Rs 70000 for a residential course. NEET coaching programs are designed such that students in the 8 th standard can start preparing for the test.
Most institutes provide a two-month crash course, a one-year course and a two-year integrated course.
A crash course is where a 10 th student can enroll two days after their board exams and the course will continue up to two days before NEET exams. This format costs between 30 and 40,000.
A one-year course costs around 1.3 lacs and a two-year course would cost around 3 to 3.5 lacs.
Some coaching centers provide residential facilities too and so would cost more.
Government NEET Coaching Centre in Chennai
Tamil Nadu government has come forward to provide free coaching to the deserving candidates.
Starting 2017, the project has seen many government school children benefit from it. Through a selection process, about 50 students were selected from each center across the state and coached on weekends and public holidays.
The program is run in tie-up with Speed Medical Institute that provides video lectures. Per reports from The Hindu, about one third of the students coached, cleared the NEET test in 2018-19.
A similar initiative has been taken up by EtoosIndia, an institute based in Kota, Rajasthan. More than 400 students from government and government-aided schools all over the state will receive free online coaching.
Government NEET Coaching Centre in Chennai
Across Tamil Nadu 412 NEET FREE Coaching centers are scheduled to take classes.
For Chennai it would be conducted in:
St. Joseph Girls HSS, Choolai, ( Block Name: Purasawakkam)
Dr. K.K.Nirmala HSS, Ashok Nagar (Block Name: T-Nagar)
Govt. Madrassa I Azam HSS, Anna Salai (Block Name: Triplicane)
GHSS Girls School, Villivakam (Block Name: Perambur)
Lady Willington HSS, Triplicane (Block Name: Mylapore)
Dr. Ambedkar College, Egmore ( Block Name: Egmore)
GHSS, GKM Colony (Block Name: Perambur)
Govt Hobart HSS, Whites Road ( Block Name: Egmore)
How to Apply for FREE NEET Coaching of Tamil Nadu Government?
Step 1: Register in NTA with a Test Practise center near you here.
Step 2: Apply for NEET Coaching pre-eligibility test conducted by School Education Department of Tamil Nadu Government. (Pre-eligibity test is conducted to short-list applicants owing to high number applications for the past two years).
NOTIFICATION OF PRE-ELIGIBILITY TEST WILL BE PUBLISHED IN LEADING NEWSPAPERS AND TN WEBSITE here.
Note TN Official website linguistic is Tamil since it is aimed for TN Government school students.
STEP 3: Check your results of pre-eligibility test and attend the free coaching classes conducted by government.
Chennai's performance in NEET So Far?
Tamil Nadu's NEET scores have not been very impressive in the last two years. Of the 1.23 lac students this year who appeared for the test, 59,785 cleared it, about 48.5%. This is still a jump of 9% as compared to results from 2018. With many government and private schools hiring special trainers from other states to coach their students, a better result was expected and their efforts have paid off.
Tamil Nadu was behind other states in terms of candidates clearing the NEET exam and also in ranking but this year, there has been a significant improvement in the results.
In 2018, there were only two students who could score above 600 of the total 720 marks but this year, the number has jumped up to 135 students crossing the 600 mark line. The number of those that scored between 500 and 600 marks also went up by five times, from 213 last year to 1194 this year (2018).
The topper from Tamil Nadu, a Chennai-based student, Sruthi K stood 57 th in all-India ranking though there were none in the top 50 ranks. However in the differently-abled category, Karvanna Prabhu from Tamil Nadu got the 5 th rank.
Private Training Institutes in Chennai
NEET coaching in Chennai – How to find the right one?
There are a host of coaching institutes in the city advertising and promising excellent results to NEET aspirants. As it is a tough exam to crack, a few points to be kept in mind while making your choice of a coaching institute would be their results/performance from the previous year, experienced faculty, quality of study material provided and the number of mock tests organized by them.
A good coaching center would have fewer seats/enrolments so that every student gets personal attention and mentoring.
All the institutes offering NEET training boast of All India Ranks and have AIR Rankers and Toppers testimonials all over their website. It is best to visit the institutes in person and talk to some previous students to get a first hand opinion about the program and tutor.
Listen to your parents to make a judgement and not just your friend.
Why Choosing the right Training / Coaching center in important?
Considering the fact that NEET is written by about 11 lakh students for about 56000 seats across India. It is important that the student choose the right coaching center that fits their requirement.
Make a shortlist not just based on rankings, but also logistics requirements, tutors, AC in the classroom, peer group etc…
Best Coaching Centre in Chennai – How were they rated?
We have shortlisted these institutes based on the many parameters but not limited to:
Selection Calls for MBBS
MBBS NEET Cut Off Mark
Medical Admission
Course Content
Student Feedback
Faculty Profile
Years in the Training Business
Course Fee
Admission in Top Medical Colleges
Success rate in NEET Exam
Feedback on Social Media including sites like quora, sulekha, justdial and collegedunia.
To get a balanced opinion, we called atleast 20 centers that offer NEET raining with the following questions:
How many students got AIR higher than 2000 in NEET in 2017 from your institute?
Does your institute offer trial classes, What is your student to faculty ratio?
Your online feedback on facebook does not see so good why is that?
What is your enrollment ratio?
What is your course fee?
Do you offer money back guarantee for your courses?
How many years of experience do you have in NEET Medical training? etc…
These questions were posed to all the institutes we called (We posed as sincere parents / students) . Many of them didn't respond rightly or should we say satisfactorily. To be fair, maybe the right person was not posted at the Customer Support Center at the time we called. That could be one reason this rating was biased. But then we called twice just in case! Have students from State Board, CBSE, ICSE, IGCSE boards made it to NEET ranking from their institute etc…
4 Best Coaching Centre for NEET in Chennai
Alan Career Institue offers seven custom Programs for NEET Training. The Cost of the programs cost anywhere between 30,000/- to 1,09000/-
The best part about Alan is the Training Content Materials. All text materials were based on NCERT. However, the language and narrative of Alan books were highly conceptual and self-sufficient to crack NEET.
There are debates in the NEET Exam Study circles about Akash Vs Alan. Many voted Alan a thumbs up, given their ability to coach students on conceptual understanding rather than solving question papers and brushing up theoretical skills.
Alan also conducts "open session", "Doubt Corners" and Extra-student engaging activities to let the students be naturally inclined towards studying.
It is noteworthy to say that many Chennai Students do not attend main stream school from Class VIII upward (With the back-office permission of CBSE schools themselves). Students from ALAN get training meticulously well, that they super-perform both in Public Exams and Entrance Tests! Many Students with Alan use their school just for representative purposes of state/national public exams.
Coaching Center Application, Eligibility, Scholarship and other details can be found here
Aakash has been in the Competitive Exam training field for quite a while. They have chains across the country, hence internal transfer within India is viable. Akash Training Materials are purely based on NCERT.
Many have reported the text materials are good to re-read the NCERT chapters, more in depth. It's very theoretical and rhetoric according to many. Having said that, Akash students were given repeated Mock tests. MCQ, MCQ's and More MCQ's is the pattern of coachin at Aakash.
The Cost of coaching ranges between Rs. 32,000/- to Rs. 3,33,350 for a two year integrated course.
GIVE MISSED CALL 9717800338
TOLL FREE NO. 1800-102-2727 | 1800-180-2727
Dr Rajesh Director of Pioneer academy comes from a humble background. So one may not expect a big corporate show or ad media outputs like bigger Institutes . However, the academy is considered the best by many students.
Coaching Center Application, Eligibility, Scholarship and other details can be found here
Dr Rajesh Director of Pioneer academy comes from a humble background. So one may not expect a big corporate show or ad media outputs like bigger institutes. However, the academy is considered the best by many students.
Students are given sincere, in-depth conceptual coaching and are being well-prepared for appearing for the Entrance exams. Pioneer academy results are breathtaking – especially with no marketing or brand propaganda (unlike Aakash or Alan).
All faculties are IIT and MIT Alumni. Fees is much affordable for tamil medium students. Best Value for money!
We find Pioneer Academy Chennai to be the BEST NEET COACHING CENTER IN CHENNAI – based on student feedback, cost and actual NEET Scores.
FIITJEE has been in the field of entrance exams coaching for a while.
The curriculum of training materials are very detailed and well written. Students mock tests their way to excellence. However, not many who joined FITJEE Medical actually cracked NEET quite that well?
A closer look and students reported that only those who actually excelled already in studies were given the best of coaching. Students were segregated into two groups based on the initial test scores. The average to below average performers were put in one class, while the good performers in another class. The class of good performers had the best of faculty, coaching and resources available to them – given their possibility to rank in NEET and bring FITJEE medical laurels. However, the class of average or below average performers were assigned to comparatively inexperienced faculty.
Many parents also reported that the scholarships fee rebates to be a bait for admission into their programs. Parents ended paying almost all the cost of FITJEE Medical courses!
FITJEE Medical courses were divided into 5 phases (Class XI – 3 Phases & Class XII – 2 Phases) and special classes of Rank Improvement Program were also offered to students.
Cost of FITJEE Medical NEET Coaching for two year integrated program is 1,27,000 /-
Other institutes offering NEET Coaching in Chennai are :
Speed Medical Training Institute
Speed Medical training institute offers Online, Residential and Correspondence Courses for both UG and PG medical programs and is fast emerging as the destination for medical training in India.
Address: No.527 Poonamalle High Road, Arumbakkam, Chennai, 600106, Tamil Nadu
Contact Number: 9566244277 / 9840077508 / 950004958
Axent Academy
Phone/Mobile: +91 44 33682609
Address: W782, D Sector, 5th Avenue ,Syndicate Bank Colony, Anna Nagar West Extension, Chennai – 600101 Landmark: BEHIND SBOA CBSE School
Email: axentacademy@gmail.com
Website: http://www.axentacademy.com/
Brilliant Tutorials Pvt. Ltd.
Address: No. 12, Masilamani Street, T. Nagar, Chennai- 600017
Contact No: (044) 24342099,(044) 24343308
Web Side: www.brilliant-tutorials.com
Email: enquiries@brilliant-tutorials.com
Time Duration: Monday – Sunday: 10 AM – 6 PM
VVT Coaching Center
CORPORATE OFFICE: No. 2 Ethiraj Salai, C-in-C Road,
Egmore, Chennai – 600 008.
COACHING CENTRE: No.79, L.B. Road, ( OPP. Globus Showroom )
Adyar, Chennai – 600 020.
Telephone: +91 81221 22333 | +91 72009 55557
A few names trending on the coaching arena would be Pioneer Academy Chennai, VVT
Coaching Center and Jupiter Education Academy.
---
Cost of NEET Training Institues in Chennai
The cost of NEET training depends on a range of parameters ranging from location of the training institute (city or rural), past track record, duration of course etc… It also depends on the ranking and the time of enrolment (closer to exam date cost more)
Based on our calls, we find that
Akash charges almost 2 Lakh + for a 2 year course.
Alan Career Institue offers programs at a Cost anywhere between 30,000/- to 1,09000/-
FITJEE Medical NEET Coaching for two year integrated program is Priced at 1,27,000 /-
Pioneer academy One year Fees 2 Lakhs
Some institutes charge anywhere from 20000 – 30000 excluding the training material and Model exams.
Best Books for NEET EXAM 2020
NCERT syllabus books are considered the best study material to clear NEET. It is the Bhagvat Gita for Cracking the test.
For Physics
H.C Verma is Cosidered best. Preview here.
Second Best would be D.C. Pandey. Preview here.
For those beginners who wish to get their basics strong Pradeep's Book is recommended. Preview here.
For Chemistry
ABC of Chemistry for Classes 11 and 12 by Modern. Preview here.
Dinesh Publications Chemistry Guide. Preview not available.
Practise test of VK Jaiswal (Inorganic), MS Chauhan (Organic) and N Awasthi (Physical). Preview not available.
For Biology
NEET Tricks and EXAM TIPS
How can a student crack NEET EXAMS?
To prepare well for a national level test like NEET, one needs meticulous planning and thorough follow-up of the plan to completion. A timeline needs to be made to cover all the topics, basic concepts need to be studied, and practice and multiple regular revisions are key. Also one must take full-length mock tests to see where they stand in terms of time management and keeping the scores high.
Also to note, NEET syllabus 2020 is based on NCERT syllabus of class 11 and 12.
Some helpful tools in preparing for the exam would be as below:
Start from the simpler concepts and build upon them as you go along learning more complex concepts. This is a rationale approach to studies.
Make your own notes as you study. Write shortcuts and code words while learn. This helps to retain information.
Don't neglect tough topics. Make a doubt copy and note down the topics that you found tough. Revising through this will be helpful just before the exam.
Revision needs to be done on a daily basis of the things studied during the day. Its best done before bed. This helps your mind retain it well.
It is necessary to stick to your study schedule but it is also important to learn well. So if any topic takes longer for you to understand, take the time.
Keep away from distractions especially social media and the smart phone as these are time and passion killers.
Keeping your goals in focus and daily diligence, one can crack the NEET exam.
Beyond NEET,…
Cracking a NEET is definitely important if one wants to pursue a career in life sciences. It is a national level exam, conducted for admissions into all government medical colleges across India except for AIIMS and JIPMER. Private medical colleges charge a hefty donation amount, anywhere between 10 to 30 lacs and not everybody can cough up that kind of money.
If one desires a profession as a physician or a career in health sciences, a NEET exam will have to be taken up but even before embarking on choosing a stream or a profession, one must explore their interests in depth and get career information as much as possible.
One must first be sure what they want to do in life. This is of utmost importance because our professions take up 35% of our waking time in a 50-year work life, keeping aside 8 hours of sleep time. It calls for a lot of effort and dedication over an extended period of time and onetary benefits cannot be the only motivating or deciding factor in making this decision.
One must find out what they are passionate about and then explore career options in them. There are hoards of options available today and a career can be made in one's choice of interest. All it requires is some research and planning.
At the end of the day, one needs to shine in the gifts and tamlents that nature has bestowed on us and it is in this that we will do our best and never tire from working.
Exam preparations can cause a lot of stress. If you feel you are despairing and need help, please do not hesitate and reach out to one of these help centers. SNEHA – help@snehaindia.org or http://www.healthcollective.in/suicide-prevention-helplines/
End Note
Watch our for more updates related to NEET Exam Date and examination results on spiritofchennai.com