Best Schools in Velachery is the precise summary of all the inside stories who have been wanting to know about the neighborhood's schools.
HERE IS OUR: Detailed Review of Schools in Velachery with all the PRO's and CON's Listed out. You can jump directly to this section to skip reading the Introduction.
Introduction
Parenthood comes with giving the best to your child! There are a world of choices in providing things that are transient. But, what about long-term, life changing choices for your Child? School is a place where your kid is going to spend 7 long hours each day! A place which can make or break your child. Define or Hamper your child's future. It is important that your thoroughly inquire and analyze the choice of schools in your neighborhood before making that critical decision for your child.
In this article we have made an elaborate, sincere and honest effort to provide parents with all the information and reviews that will help in shortlisting their choices! Some are inside information, some are neighborhood reviews and very few are our own direct observations.
There are many schools in Chennai, but which is the Best? We cover them. One by One, Laser Focused, highlighting both the Pro's and Con's!
Contents: Best CBSE Schools in Velachery | Best State Board Schools in Velachery | Best IGCSE Schools in Velachery |
How were the Schools Rated?
The best schools in Velachery were prepared by our team by doing a comprehensive discussion with various stakeholders. This included current students (most important as they will study), parents, teachers, Alma matter (passed-out students / alumni), public, tuition centers etc… We have covered schools in and around Velachery. Around Velachery locational buffers are between SRP Junction, NIOT, Thoraipakkam, Adambakkam and the Old Glaxo stop.
Factors Considered for Rating
Within the various boards the various parameters considered for rating are:
Extra Curricular Activities, School Results, School scares the child, School is considerate, School accommodates kids with learning disabilities, Fees (Parents don't have to work just to send kids to school!), Parents feedback, Kids confidence (not the exam confidence but the social confidence)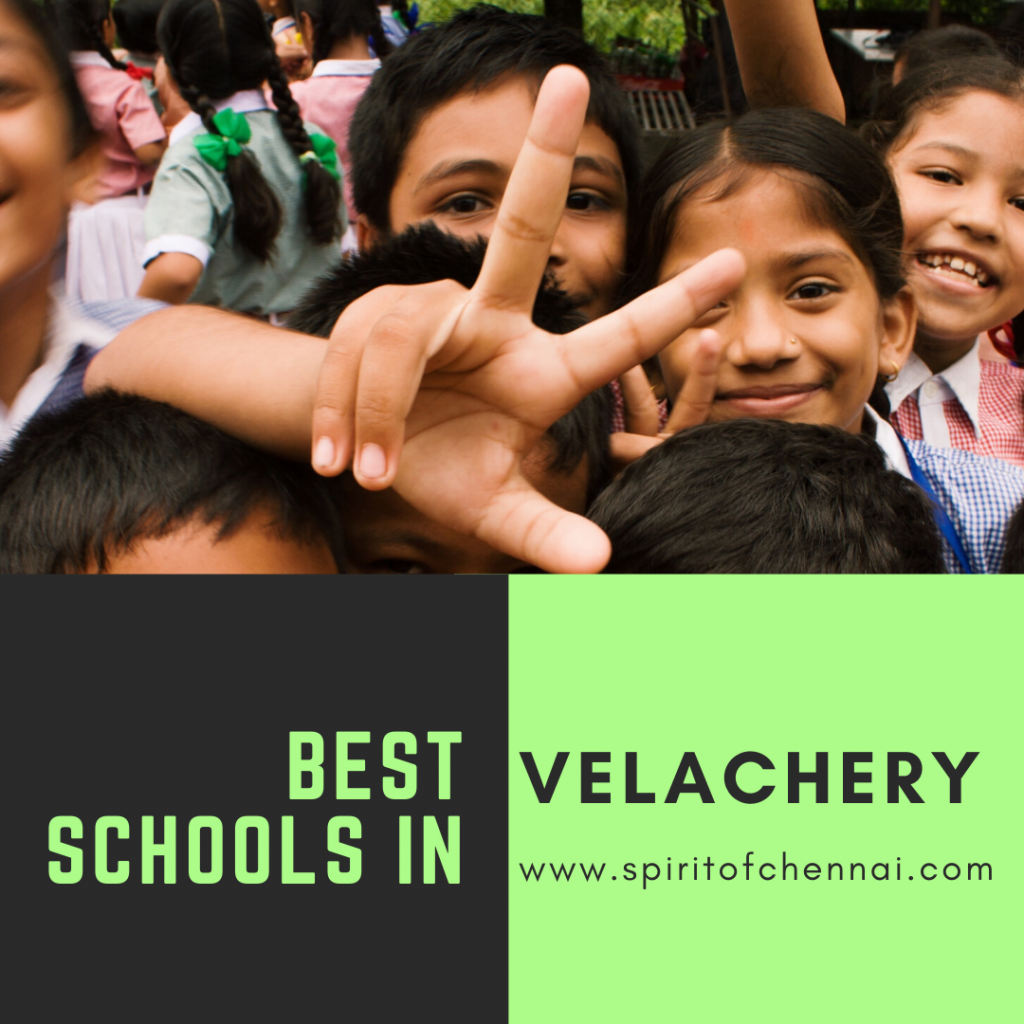 For the purpose of evaluation only schools having from 1st standard to 12th standard considered.
Best CBSE Schools In, Around and Near Velachery
Arsha vidya mandir (Number 1)
DAV (Number 2)
AGR School (Ganesh Matriculation) (Number 3)
Sunshine Chennai Senior Secondary School) (Number 4)
PON Vidhyashram
KV IIT (Conventionally the Best! Recommended)
Marg's Vidhyala (Slowly making it to the Top list of Schools in Velachery. Recommended)
St. Britto's Academy ( Too much undue Study Load reported. Exercise Judgement)
San Academy (Poor Teacher Quality,100% Studies off-loaded to parents as homework reported. Exercise Judgement)
Best State Board / Samacheer Kalvi / Matriculation Board Schools in Velachery Area
Bethel Matriculation (Number 1)
Gurunanak School (Number 2)
AGM International (Number 2)
Akshaya Matriculation (Too Playful and more Extra-Curriculars reported. Exercise Judgement)
Government School (Chennai Higher Secondary)
St Savio
St Francis Xavier
Ashram
Advent Christian
Read our article on Best International Schools in Chennai
Best IGCSE / Montessori Schools In, Around and Near Velachery
Abacus (Best & Number 1)
Navadisha Montessori(Best & Number 1)
Delhi Public School (Best & Number 1)
Tatva Play School (upto UKG) (Best & Number 1)
Bodhana montessori school
Askshya Global (Too COSTLY, More towards ARTS & Humanities at Grade 7+ . Exercise Judgement)
Detailed Review of Schools in Velachery
Bethel School Velachery
Address: No.15, 2nd Street, Sarathy Nagar, Velachery, Chennai, Tamil Nadu 600042
Phone: 044 2243 4071
Parent Review
Good: The School is considered to be one of the best Matric Schools in Velachery. Up to IX Grade students are given coaching in all syllabuses. Books from Oxford, Cambridge, CBSE, and Samacheer are combined and presented as custom coursework to students. X, XI, and XII, students are exclusively trained in the Samacheer Matric syllabus only. The rigorous coaching from Pre-KG to IX that students undergo at Bethel, gives them a better ability to crack the State Board Matric Exams. Students are obedient, well-grounded and enouraged to have a humble persona. Children at Bethel also evolve to pick up interests in Music (singing and instruments).
Bad: Teachers are not very kind to parents. The Parents-Teachers Meetings are more often reported to be an unemphatic monologue (from Teacher to Parents). Parents also reported long waiting hours during the Parents Teachers Meetings. Long Waiting hours during PTA's can be annoying according to some.
Overall, Bethel did a good job when it comes to coaching students in Academics and Conceptual Understanding of Subjects. All credits to the integrated (Oxford, Cambridge, CBSE, and Samacheer Ciricullum upto IX Grade!)
Address: Velachery, Chennai, Tamil Nadu 600042
Phone: 044 2245 2253
Parent Review
Good: The School is well-grounded and light in educating wards. Students are acquainted with all facets of education, including studies, sports, cultural and extra-curricular activities,… The teachers are notably kind of their wards. Teachers were reported to have a good teaching style, caring attitude, and encouraging quality. Teachers and School management ensure every child of the school scores well in the Public Matriculation Exams. Personal attention and ample room for educational development are given to every child – Individually.
Bad: Could not gather much Data.
Address: 37F, Velachery Main Road,
Vijayanagar, Velachery,
Chennai – 600 042.
Email: [email protected], [email protected]
Phone: 044 – 2243 3322, 2243 5051
Parent Review
Good: The School is considered the second-best Matriculation school in the neighborhood. The Coaching in terms of studies is rigorous. Students have access to extra study activities like FIT-JEE,… If a student has to ace National Exams from being in a Matric School, AGM Matriculation is the place. Studies and tests, Spell Bee, Abacus Math, Science Academia are the great things students are exposed to here.
Bad: Extra-Circular Activities are not much encouraged. The school does have some sports and cultural activities. But, they were more for the sake of having it. A Student is tagged purely by the grades or scores he gets. Other aspects or strength of a child is not much acknowledged. Also, teacher Quality could be a little better in AGR and AGM. Notably, teachers of AGM or AGR were reported to not have good English speaking skills. However, unlike San Academy (See More on San Academy Review below), the teacher's Vocabulary does not come in the way of content delivery. Teachers do their best, in teaching all they know! AGM and AGR students do excel in studies! So superficial negatives do not weigh down the positive educational impact a Child receives from AGR / AGM.
37F – 1, Velachery Main Road, Near Grand mall, Vijayanagar, Velachery, Chennai – 600 042.
Web – www.agrglobalschool.com
Email – [email protected]
Ph. No: 044-49528369
Mobile: 9445642810
Parent Review
Good: AGR is a CBSE Branch of AGM Group of Schools. The above reviews (for AGM) do apply for AGR CBSE School as well. However, the parents of AGR reported that CBSE students underwent a little rigorous coaching in terms of studies. AGR Schools were reported to be strictly on par with National Standards. Integrated FIT JEE and NEET courses for AGR students, does seem to give students a competitive edge. (AGR trails DAV Group of Schools in terms of parent's perception and ranking position)
BAD: Same as above (AGM Review)
D.A.V. Public School Reviews
Main School – 19, Sitaram Nagar,
Velachery, Chennai – 42.
Phone : 044 2243 1258 / 044 2243 0459
Fax : 044 2243 1258 / 044 2243 0459
Email : [email protected]
Parent Review
Good: Best and Most-preferred School in Velachery Neighborhood. As always, the students are primed to do just one thing, which is to STUDY. Weekly repeated Paper Tests and Exams takes out the fear of exams from students. If you would want to have your child crack CBSE, NEET, FIT-JEE like a pro, DAV is the place!
Bad: No Extra-curricular activities. Studies, Test and Exams are the only aspects of schooling. Study, Study and Study is the only mantra.
Arsha Vidya Mandir
Address: 114, Velachery Road, Guindy, Chennai, Tamil Nadu 60003, Phone: 044 2230 1177
Parent Review
Good: Arsha vidya mandir has been consistently rated as the best CBSE school in Velachery. It is very hard to get admissions in the school. However, if the ward is selected, the school gives a holistic education and competitive studiousness to its students. Teachers are very kind to students and the subject is delivered for student's conceptual understanding. Mugging up of facts or studying for the sake of exams is considered to be discouraged in this school. Lesson based projects are given to students. Children have a competitive edge in cracking exams and leadership qualities in their attitude. In our surveys, we found that of all the schools in Velachery, Arsha vidya mandir School is the Best!
( Arsha vidya mandir, DAV and AGR was esteemed as the three Best CBSE Schools in Velachery)
Bad: Getting Admission is tough. Selection process is opaque. Also one of the parent reported that the School Administration prefers wards of Stay-at-home mom's. So a child of working mother will most likely not be selected for admission.
Address: Plot No 21,VOC nagar, near Vijaya nagar, Velachery, Chennai-600042.
Phone No: +91 44 22590768
Mobile No: +91 96000 53684
Email Id: [email protected]
Parent Review
Good: The Principal of the school Ms. Padmapriya is kind and Courteous. The School has Multi-locations in Chennai. So Internal Transfers are viable. School fees seem to be affordable and nominal (at first sight!). Initial donation is the most affordable one – Just 50K. The school App for student-teacher-school communication was notably reported to be utilitarian by parents. Few parents (from Velachery school) reported that the Kamakottai Nagar campus of San Academy was Big and of a better Quality!
Bad: One of the bad schools in Velachery is San Academy. All the parents, both parents of children who have their kids study in San Academy and that outside in the neighborhood reported only bad issues! First and foremost is that teachers are below average. Eight hours in school, children are made only to copy from the board and write in their books. Curriculum content delivery, concept understanding or child's academic progress are alien to the school's teaching staff. Teachers are paid the lowest salary as compared to other schools in Velachery. Just 15,000/month or lesser. Many assumed that low teacher quality can be attributed to this low pay-scale. Many teachers are also not B.Ed. Qualified.
Many parents reported that staff are ex- IT employees who have returned to work as teachers after mother-hood break (this in itself is not a bad thing. However, not having a background in academic management, Child Psychology and curriculum handing has its own downsides)!
Teacher's Dump the entire Curriculum work on Parents. From Pre-Kg to XII, Students are loaded with homework. Every school reported homework. But, what was different about San Academy was that teachers never taught in Class. Students are expected to be personally coached by parents at home and expected to ace internal assessments or exams.
The volume of homework was also reported high – taking about an average of three hours each day. Many mothers complained about the homework load and the school not being considerate to give some breathing space to children even during important festivals like Diwali or Durga Puja.
Second, the biggest issue was management itself! San Academy and Sunshine Management were reportedly the same. However, the monetary & academic management models of both schools were different.
Sunshine was good, San Academy was not!
Sunshine is targeted for upper middle class, while San Academy is a school targeted for lower middle class.
Third the recurring fees. Though the initial donation is low, the recurring fees are not static. Fees, Annual Day Tickets, IMO/SPELL BEE/ ABACUS/ SIT TRAINING, Picnic Day Fees, After School Tuitions (many are softly forced to sign-up for after school programs – especially Hindi Tutions)….almost everything comes at a price in San Academy. Eventually, the annual costs for parents will shore up!
School Infrastructure is also bad. The rooms are not ventilated. The promise of Air Conditioners remains a promise – no AC's work! Worst of all, bathrooms are dirty! Many parents said that their complaints to the principal never really worked! The toilets are reportedly very dirty and unhygienic for kids to use.
The bounce rate in San Academy is also high!
People after paying the donation, leave to other schools after realizing the teacher's quality, homework load and school's infrastructure.
Address: Thirugnana Sambandhar Street, opp. Velachery Railway Station, Velachery – Madipakkam Main Road, Velachery, Chennai- 600 091
Parent Reviews:
Good:
Though a new school, the management has got it right!
Both in terms of studies and Extra-curricular activities. Students are well-prepared and made to be primed up for all CBSE exam patterns and questions. Notably, Pon Vidhyasharam is a branch of PSBB (Y.G. Mahenran's). They have passed on all the PSBB best practices to Pon Vidhyasharam.
Bad: From the survey's parents did not report any problems with PON Vidhyasharam Velachery School. Could not gather much Data from neighbourhood as well.
Best IGCSE Schools in Velachery
Address: 3 Thirumalai Nagar Annexe III Main Road,Perungudi, Chennai 600 096.
Phone: +91 (44) 24960904, 24963823
Email: [email protected]
Parent Review
Good: One of the best classy schools to study in Velachery. The students are well-rounded! Education is wholly application-oriented. All students can crack global competitive exams, specifically SAT with ease! Subject understanding and experiential learning are given preference over Curriculum Completion. Many students who graduate from abacus have leadership qualities that can get them to C-Level Jobs!
Bad:
Though a humble school with high moral values, the peer-group is rich!
Many children of super-rich kids study here. Hence, undue peer pressure and problems of the elite might influence your kid!
Another aspect of Abacus pass outs is that the Kids are very well-rounded and Wise! They have zero tolerance for any hypocrisy or negative competitiveness. Though a great trait – this proves to be the biggest challenge if kids move on to get admitted into INDIAN universities or colleges.
In College, Professor-Student's tiffs and unfortunate episodes has to lead to college drop-out scenarios. Not one, not two, Abacus Kids if admitted in Indian colleges drop-out as groups!
Abacus Students cannot fit into Indian Work Culture – Flatter your Boss or Chalta hai Culture!
Abacus students can never act obediently!
They Obey genuinely to those who truly inspire them!
Abacus is ideal for kids who are planning to do theirs under graduation abroad.
Abacus students have an entrepreneurial attitude and are best for intellectual/knowledgable roles in terms of career!
Address: No.8, Tansi Nagar 1st Street, LIC Colony, Velachery, Chennai, Tamil Nadu 600 042.
Ph: 044 – 2243 2755, 044 – 4232 5207 / 5208 / 5209
Email: [email protected]
Good: The new Cambridge initiative of the school has been highly appreciated by Ex- Akshaya Matric students and neighborhood parents. The timing of the school very ideal for the overall well-being of the child. The kids are provided with two snacks by the school. Up to Grade 5 the program is conceptual and Application-oriented.
Bad: Very Expensive. Yearly Fees Costs about 1.5 Lakhs (Donation Apart). We also found that the 12 "A+ Certification" Exam was mostly given for Art's Subjects. Though it was told that student's choice of subjects was Arts – it's hard to believe the none of them opted for Math or Science! Cambridge A + Certification Exams needs rigors application-oriented training and Akshaya Global seems to give that training only in ARTS! We really doubt the capacity of teachers to solve model exams of Cambridge Math or Science, themselves, leave alone their capacity to train their students to clear it!
Navadisha Montessori School Velachery
Address: 3rd Cross Street, Kalki Nagar, Near AG's Colony, Velachery, Chennai 600042
Phone No. : +91 988 466 9104 (9:00 AM to 2:30 PM – Monday to Friday)
E-Mail : [email protected]
Good: One of the Best Montessori Schools in Velachery. Up to 5th grade Montessori and after that ICSE syllabus is followed. Students are given a well-rounded education. Navadhisha Montessori is an aspiration of many! The parents had no complaints about Navadhisha. Infact, all parents felt very happy and fortunate to have the kids study here.
Bad: Admissions are tough to get. Very Opaque Selection process. Parents had no complaints about Navadhisha.
Delhi Public School Perungudi Review
Address: N.o 1, 1st Main Road, Perungudi, Chennai – 600096, Near Sun Direct Office, Nehru Nagar
Contact: 044-45524307 / 044-45524308
Parent Review
Good: The Delhi Public School (TIPS) is considered one of the foremost IB syllabus schools in Chennai. Parents reported that the curriculum delivery was highly engaging. The students are given mini-projects and lots of conceptual assignments. The students were not very stressed from studies, maybe because of the application-oriented methodology of teaching and assessments. Morning Breakfast is provided.
Bad: We felt that only the super-rich can afford the fees. It costs 1.5 Lakhs Per trimester!
Tatva School Chennai
Address: No. 61, Vijayanagar 8th Main Road Velachery, Chennai, Tamil Nadu 600042
Phone: 044 4202 2153
Parent Review
Good: One best upcoming Cambridge school of Chennai. The Velachery and Medavakkam branches provides pre-primary schooling upto U.K.G after which students are expected to continue their primary and higher secondary education in their Polachery campus. One thing that anyone can notice about Tatva Students is that the kids are always Happy. Unlike any other school, children are not repressed, superficially obedient or fearful. Students freely express themselves, like adults!
The school truly nurtures kids holistically. A typical preschool day at Tatva-preschool is four hours, structured as alternate periods of learn & play. Unlike traditional schools which forces kindergartners to read and write, Tatva never pressurizes kid to read and write! Alternatively, the school gives ample activities for children to pick it up! For example, a normal playschool might start with teaching alphabets a-z, writing them… But, from pre-kg to LKG, Tatva emphasized on phonetics – thereby not just learning the alphabets but also the sounds. This enables kids to spell words and read progressively.
Words were not mugged up! Kids will start spelling them by breaking the word up into sounds. In the latter years I'm confident that this foundation of phonetics will help kids to have a spelling precision with even unknown words. So it was with Arithmetic. Counters were used instead of printed numbers. The best thing about TATVA the confidence instilled in every child!
The free play and group activities literally builds a sense of individuality kids. Kids are not scared of the teacher, but instead look up to them as their mentors or second mothers. Teachers also counsel parents of the kid's personality changes or parenting styles. Many discount Tatva in our neighborhood as being slow or experimental in academics, but what we saw was that kids from Tatva or any other . Most of all see TATVA nurtures the kids to be self-dependent, something that will enable these kids to get to leadership roles.
Bad: Distance of Main School is a serious disadvantage. Given the distance many may opt out of Tatva from Grade 1. Also, kids who complete U.K.G from Waldrof Syllabus, find it very hard to cope up with main stream CBSE or Matric Schools.
Suggestion: If you are aiming for a mainstream CBSE/Matric education for your child, it is better to pull your child of Montessori/IGSCE Schools in LKG. UKG is the foundation of primary education. Hence, Kids need to get their Reading/Writing foundation set in U.K.G! All Montessori/IGSCE Schools prime children to read/write only by Third Grade, not UKG!
CBSE / IGCSE (IB) / Matric – Which is the Best?
The debate of which school board is better left to the generations that will pass-out only after 2030 (let's see the India they build, we have split this listing into State Board, CBSE and IGCSE Board schools in Velachery)
Based on informal surveys with parents and kids, directly that IGCSE and IB wards are holistically better equipped for life than their CBSE or Matric counterparts. The IGCSE, IB and Montessori way of school, though popularly considered as slow, we found that the Kids had a full grasp of understanding about the curriculum. They visibly had a better sense of contextually applying what they have learned in the real-world. There is no room for mugging up of facts. In fact, there were more projects and hands-on learning. We also found an interesting fact, that kids who graduate from IGCSE or IB schools, effortlessly aced Global exams like SAT or GMAT. IGCSE/IB/Montessori syllabus kids were observed to retain subject information better and are able to apply the information learned in real-life situations. What might help kids crack IIT or IIM is this application-oriented approach to learning and not mugging up of facts practiced by the route system of Matric/CBSE schools.
We also noticed that many traditional CBSE or MATRIC school systems misunderstood disciplining and being rudely abusive to students. Children who are scolded or beaten can have these scars for life! What is the point in all those ace grades, if the child is scared to speak or not able to freely express their thoughts? We think teachers cannot scare the hell out of kids in the name of discipline.
In terms of Competitive Exams and Cracking Olympiads, CBSE Schools not surprisingly did better. The curriculum which is in par with the National standards equipped children to be on the pulse with the syllabus. If you are planning for a child to crack Indian Exams like IIT JEE, IIT GATE, NEET, Engineering,.. in the future, CBSE is the Best Choice.
Note & Disclaimer: This entire article is based on our survey. Our team request you apply your judgment in the decision making process.
In Conclusion – One Quick Word of Caution while Selecting Schools
Velachery is a fast expanding neighborhood. However, we have noticed some parents send their kids to as far as Manimagalam or Velammal International from Velachery every day for schooling (Maybe they want an Iron Man out of their child!, What one should realize is that Iron melts under extreme heat). Psychiatrist and Pediatricians advise parents to keep their wards travel time to school between 20 minutes one-way.
We recommend not to pressurize kids, both in terms of travel or push for merits. We have seen how tried out kids are coming back from long school drives. Push for merits have also narcissist psychological impacts on the child's personality. These personalities cannot be undone in adulthood. Many recent scientific articles and news items also suggest that parents are at the receiving end of the push-for-achievement parenting styles.
So please in the best interest of your Child let them study in an relaxed, unpressurized ecosystem. When children do not compete with their peers for marks, they outdo themselves! They Ace National Exams and indeed become top achievers by the internal motivation incubated by you and the right teachers/school!
A School which will give them the roots to grow strong in their academic concepts and wings to fly & ace all's life's exams 😉
We sincerely hope our Best Schools in Velachery informational content gave you all the insights you need to Choose your Child's School Wisely!