Note: We were not paid to write this review. All views are based on our own personal experience while dining at Andhikkadai Dhandeeswaram, Velachery.
Best Places to Eat in Chennai Rating: 4.5/5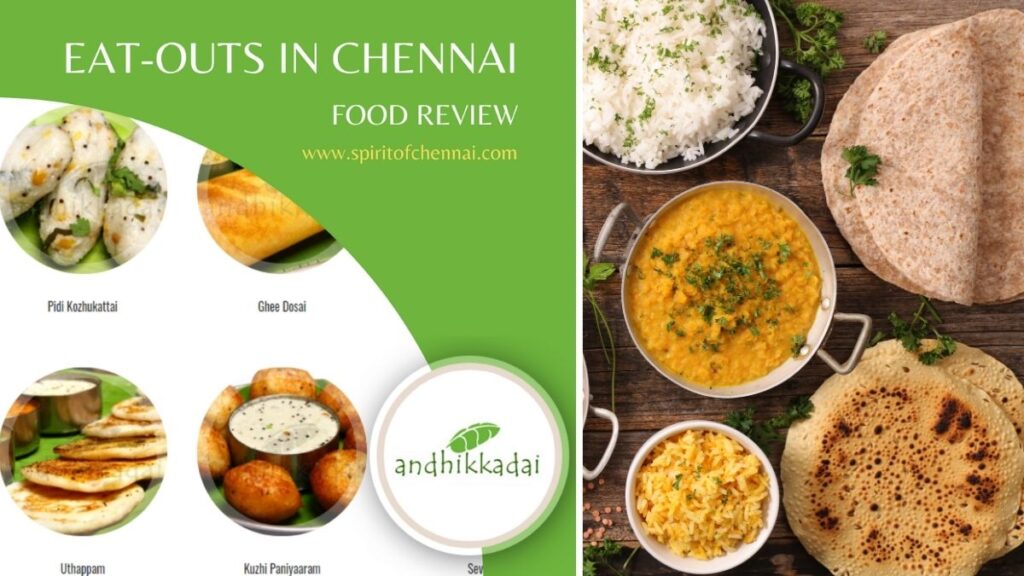 I was searching for a food joint, which will not only twitch my taste buds but suit my gastro-intestinal health. Before I could rhetorically declare that home-cooked meals work the best, my 76-year old aunt's claims about "Adhi Kadhai," dropped in. I soon find the restaurant's slogan, "Homely Food at Affordable Rates," to be true.
In fact, too good to be true.
Located in the busy Dandeeswaram commercial market main road, "Adhi Kadhai" is a small vegetarian food joint couched firmly underneath an old neem tree. Their reputation is much bigger than the physical space. The dining area, a small few hundred square feet hall, is optimized to accommodate eight to nine tables. No wonder takeaways and online orders are more than the actual walk-ins in thought. However, I was told that the evenings and weekends were crowded.
Andhikkadai Menu Card
The menu choices were inclusive of 'all' the traditionally savored south-Indian dishes.
Unlike many restaurants, which serve the conventional steam-rice cakes (Idli), Rice Pancakes (Dosa), Rice with yellow lentils Porridge (Pongal), crispy fried Black Gram (Ulunthu Vada), and the puffed fried wheat (Poori), Adhikadi has more traditional choices to the menu.
There were rice batter variants like steamed Kozhukattais, shallow fried Panniyarams, baked Appam with coconut milk, steam Idiyappam strings with coconut milk, bright-colored Sevvai, and Lentils Adhai. There were thirteen varieties of Dosa, five varieties of Vadai, and six varieties of uthappam. Each of these is a signature dish to the traditional south-Indian cuisine. Though rice batter is the fundamental ingredient that goes behind most of these recipes, each has its unique proportional mix of lentils and concentration. In simple words, it takes a lot to keep stock of so many different batters. And yet they were, all available under one roof.
The price of all the food items was less than Rs. 100. Except for a few special dishes, like parotta or meals combo, many other dishes on the list had an average Rs.50 price.
Choosing from various dishes is quite a hard thing, especially when you are aspiring to be on a stringent diet. But, after looking at the menu, and the crisply textured ghee roast dosa relished in the nearby table, the temptation to indulge becomes hard to resist. I order for a Ghee Roast, and Mini Tiffin containing One Idli, small-bowl of Ven Pongal, One Poori, a mini Vada, and a mini Uthappam. Mini Tiffin was served in less than five minutes. "Ghee Roast is in the making, and it would take another five minutes," I was told by the waiter, who seemed warm and prompt in his service.
Mini tiffin looked more like a mini breakfast buffet. The food was fresh, steaming hot, and looked authentic. There were three different chutneys and one sambhar that came as sides for the dish. Seeing the food items, I could tell there were no artificial colors added to the dishes. From main dishes to chutneys, they all retained their original crude colors. I took my first bite into the soft and spongy Idli. True to my aunt's claim, it tasted just like the way we would cook at home. So it was with Poori, Uttappam, and Vada. Every dish tasted homely. Most of the cooks, masters as they call, have decades of local culinary experience. The food's texture and taste showed that it does not take a hotel management degree or a master chef honor to become esteemed professionals in the food industry. The humble cooks from this small food joint make a compelling statement of their skills through their signature dishes. The Ghee Roast, which came in by the promised time, had audacious smearing of aromatic ghee and a crispy paper-like texture. I did not have excessive thirst after eating all the was served to me – hinting that there were no taste enhancers like MSG or Soda added to the dishes.
Best Kozhukattai shop in Chennai
If there is something that Adhikadhai can be identified with, it is the tasty Kozhukattai. Sweet Kozhukattai, Kara Kozhukattai, Ammini Kozhukattai, and Suzhian will satiate your taste buds like no other. The slimy, finger-licking snack is truly traditional and authentic to taste.
I could now understand why my aunt claimed that it was the only hotel that goes well on her stomach. Dining at Andhikadai, Velachery, I can vouch that this small food joint is above all the other famous commercial hotels and restaurants in Chennai. It is a go-to place for those who are a penchant for hygiene, traditional dishes, and quality.
Getting a tasty meal without upsetting the gastronomy is a rare thing. So, set out to try it for yourself at Andhikkadai Dhandeeswaram, Velachery.