Velachery is fast becoming a noted destination to leading retail global brands. The area is uniquely placed between the Guindy National Forest Area and the Pallikaranai Marsh Zone. The connectivity offered by both MTC buses and MRTS trains making this part of Chennai very accessible. The location is also within the driving range of Old Mahabalipuram (OMR) also known as the IT Highway or the Rajiv Gandhi Salai.
Shopping Area
Velachery is home to the famous 'Malls of Malls', the Phoenix Market City, which is considered Asia's second-largest mall by size. This shopping complex is home to some of the famous global brands across about 250 stores and spread over 1 million square feet.
Shops in Velachery are spread across 4 main sections.
100 feet Bypass Road between Vijay Nagar junction and Gurunanak College – This section has brands like Megamart, Metro, Samsung, Sony, Venus Electronics, and popular eateries like Sri Krishna, Sangeetha, Sri Gupta Bhawan, and Dindigul Thalapakatti, etc…
Velachery Tambaram Road between Velachery Station and Vijay Nagar Junction – This road has shops like Bata, Grand Mall, PVR Theater, Croma, Reliance Electronics, and popular eateries like Mc Donalds, KFC, Sea Shells, Zaitoon, etc…
Velachery Taramani Road between Vijay Nagar and Taramani – This road has shops like Electronics, Wangs, French Loaf, Parfait 3, etc…
Dhandeeswaram Main Road & Velachery Market Road – This road is known for the famous local market and the famous provision supermarket the Latha Super Market and Fancy store.
Places to See in Velachery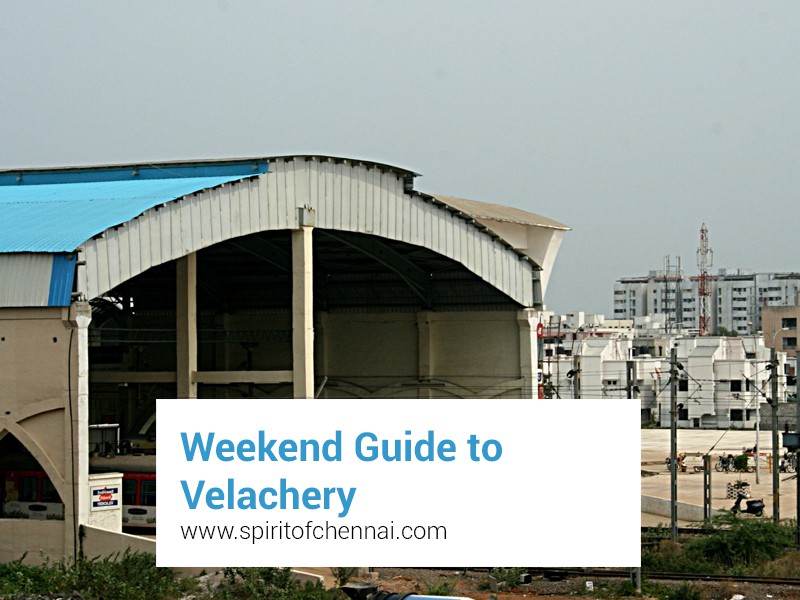 If you are in Velachery and want to spend the next few hours on seeing something nice here are some suggestions.
Velachery MRTS Station
The Velachery MRTS Station is the last station on the MRTS line for now. The station building in itself is massive and has a very unique architecture compared to other train stations in Chennai. The Station has a footfall of about 20000 every day. You may take a platform ticket and just watch the wave of humans coming and leaving the station. It is a sight in itself.
Grand Mall
The Grand Mall is one of the largest malls closer to the Vijay Nagar Bus Stand. It houses some electronic stores like Chroma and Fabric shops like Lifestyle. The Fruit Shop can help quench your thirst. If you can find the time, PVR Cinemas is on the 4th floor for you to catch a quick blockbuster.