We have rated Hadoop Big Data Training Courses offered by various academies and institutes in Chennai. We have shortlisted these institutes based on the following parameters:
Course Content
Student Feedback
Job Placement after Big data Hadoop Training
Faculty Profile
Years in the Training Business
Course Fee
Industry Feedback
Feedback on Social Media
Important: Realise that when rating, make you own judgement. Like everything, its Trainers over Institutions. So before enrolling, ask to meet the trainer and form your own opinion. Ask for sitting in a sample class if possible.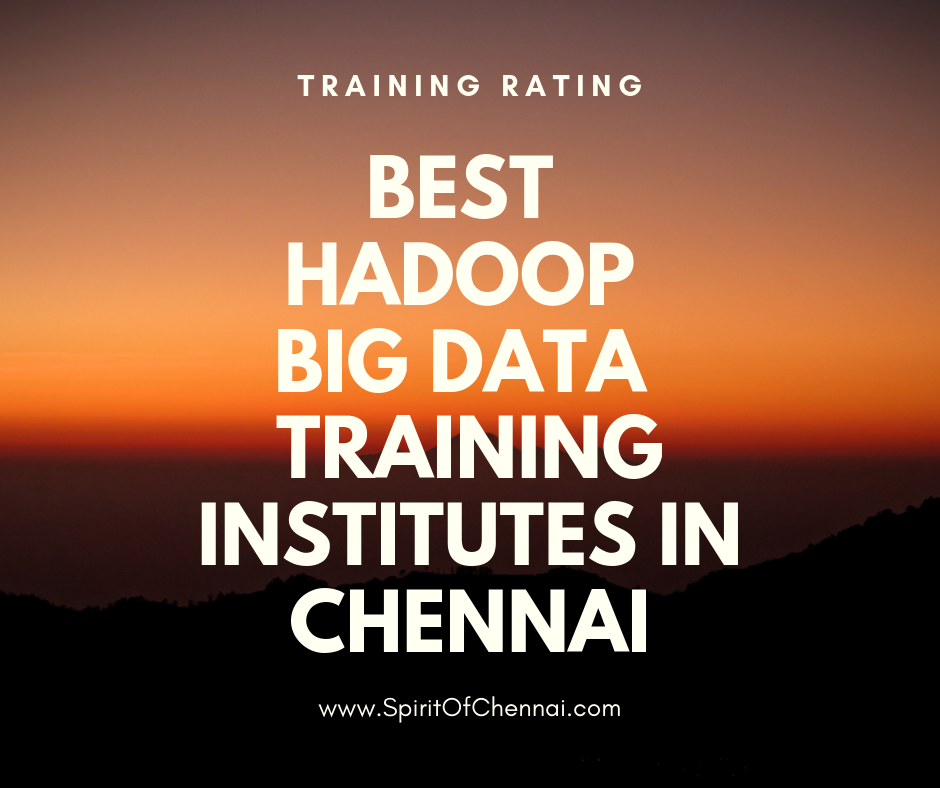 What is Big Data
Big Data, as the term refers, refers to large databases that are both symmetric and un-symmetric in nature. It is typically not possible to handle this volume of data using conventional softwares. Overtime Big data has amalgamated more technical features into itself which include Predictive analytics, User Analytics etc…
What is Hadoop?
Hadoop is an open-source software framework for storing data and running applications on clusters of commodity hardware. It provides massive storage for any kind of data, enormous processing power and the ability to handle virtually limitless concurrent tasks or jobs.
Besant Technologies
Besant technologies provides Big Hadoop Data training by Industry experts. They also offer placement assistance. They provide training in probably the largest number of locations in Chennai. The training is provided in Tambaram, OMR, Porur, Anna Nagar, TNagar, Thiruvanmiyur, Siruseri and even Maraimalai Nagar. So they are closer to you from any part of Chennai.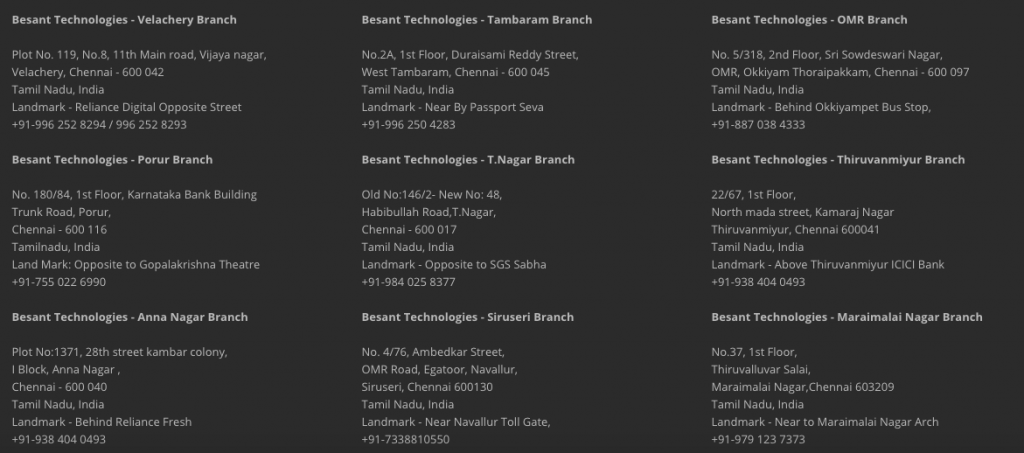 Fita Academy
We like the way Fita presents its data on its website. Maybe its the ingenuity of the legendary Mr Venkat at full display here.
By The End Of Hadoop Training In Chennai At FITA You Will Learn
Familiar with Installation and Working Environment of Bigdata Hadoop 
Integration with SQL databases and movement of Data from Traditional Database to Hadoop and Vice versa 
Be an expert in the several components of Big Data Hadoop. Core Hadoop Components like HDFS, MapReduce, Hive, PIG, Sqoop and Flume with examples 
Understand the various Hadoop Flavors 
Gain knowledge in handling the techniques and tools of the Hadoop stack. 
To learn how to Pattern matching with Apache Mahout & Machine learning
We have noticed in the areas and geographies that they operate both Fita and Besant Technologies tend of compete and in the process create a very good value proposition for the student.
They operate out of Velachery, TNagar, Thoraipakkam in OMR and Anna Nagar.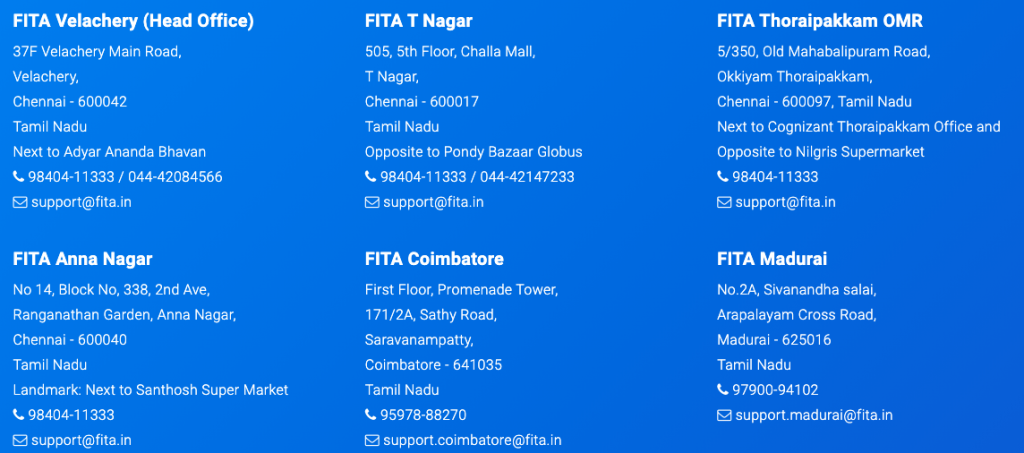 Credo Systemz
Big data Hadoop Training in Chennai at Credo Systemz which is handled by experienced professional. Our Big data training program is focused on enhancing the skills of an individually in handling the data sets by real time case studies. Most importantly, joining this Big data courses in Chennai to here you can learn the top trending platforms like Hadoop ,Big Data Analytics and Spark Training. By our Hadoop training in Chennai with placement, you will attain 100% placement assistance from our placement team which incorporates the personal skill development, resume building, and updating about the current ongoing Hadoop job opportunities in India.
Credo Systemz  offering Big data certification Training program as classroom, online and corporate training, you can book a free demo session with our Big Data Experts to choose your own Hadoop certification program.
Contact: Credo Systemz Velachery – 30, 16A, 3rd Main Rd, Rajalakshmi Nagar, Velachery, Chennai, Tamil Nadu 600042
Credo Systemz OMR – Plot No.8, Vinayaga Avenue, Rajiv Gandhi Salai, (OMR), Okkiampettai, Sri Sowdeswari Nagar, Chennai, Tamil Nadu 600097
Greens Technologys
Learn Big Data Training in Chennai at Greens Technologies – No 1 Big Data Training Institute in Chennai. Call 89399-15577 for more details.
Greens Technologys offers Big Data and Hadoop Spark training in Chennai with Real-World Solutions from Experienced Professionals on HDFS, Hadoop, Map Reduce, Hive, Sqoop, Scala, MongoDB Developer and Administrator with Full Hadoop Eco system and prepares you for Cloudera's CCA175 Big data certification.
Inventateq
The main topics covered by Inventateq in the Hadoop Big data training are:
Big Data
Hadoop Admin and Developer
Spark and Scala
Hadoop with Python & Java
Hadoop Common
Hadoop Distributed File System (HDFS™)
Hadoop YARN, MapReduce
Ozone, Submarine
Cassandra, HBase
Hive, Pig, Mahout, ZooKeeper
Address: Velachery main road,No 2, 11th Main Road, G1 Es El En Manasarover, Vijaya nagar Opposite to Grand Mall, Near Chennai Silks, Backside of Venkateswara Super Market, VELACHERY, Chennai, Tamilnadu-600042
Chennai, Tamilnadu
Telephone: +91-9840021877  Mail: [email protected]