This article gives a listing of the Best Schools in Adyar, Chennai. The various parameters considered for rating are Facilities, Teachers, Extra-Curricular Activities, Food, Boarding, Fees & Existing students rating. The schools follow the CBSE, ICSE, IGCSE, State Board curriculum.
Our team also spoke to many students, both current and past to get a first-hand feel of these schools.
We made a compilation of Past Results, student rating, teacher-student ratio, facilities, fees, co-curricular activities, application to acceptance ratio, teachers have received national awards, transparency in admission process, alumni profiles, simplicity of interaction etc… We also took into account feedback from parents on sites like MomBrain, Indus Ladies, Mom Junction & Quora.
Note: We have made our best attempt to gather all the details before compiling this list. But we would request all parents to make your assessment based on your own parameters.
Also, see the list of the Best CBSE schools in Chennai and Best International Schools in Chennai.
If you are looking for a good school for your child, here's a listing of the top ten best schools in Adyar. These are not necessarily in the order of academic excellence but each ones' good qualities have been listed out and it is for the parents to make their choice according to their priorities and preferences.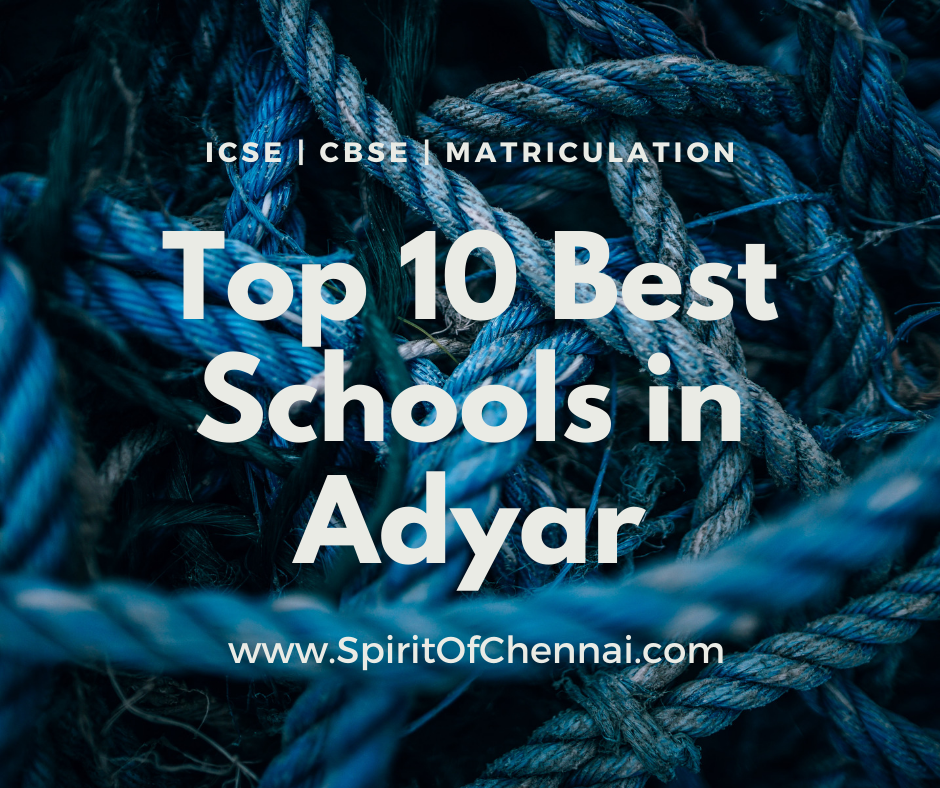 Chettinad Vidyashram Senior Secondary School
Ranked #39 among a list of 276 schools in India, Chettinad Vidhyashram is a highly rated school, established in 1986. Its aim is to impart education which is a blend of India's priceless culture and modern scientific knowledge. It follows the CBSE curriculum. They have a range of languages, Tamil, Hindi, Telugu, Sanskrit, French and German that can be chosen as 2nd and 3rd languages which gives a good exposure to the young minds. Apart from academics there is good focus on sports like tennis, swimming, music, dance, cookery etc.
School Address: Dr. DGS Dinakaran salai, RA Puram.
Contact number: 040-24938040
Website:
St. Michael's Academy, Gandhi Nagar, Adyar
The school's mission in their own words is to "Educate children to become life-long learners who think critically, care deeply, act responsibly and dream expansively." The school has one of the best ratings from students and parents alike. There are sixty-three faculty members in this ICSE school. Result wise, as per reportbee.com in the year 2016, the results were 100% pass in the 12th board exams and the average marks scored was 935 for 185 students who appeared the exams that year. SMV has a large campus and facility.
School Address: No. 2, III Canal Cross Road, Gandhi Nagar, Adyar, Chennai – 600 020
Contact Number: 044-2491 5331
Website: http://www.st-michaelsacademy.com/index.html
Sri Sankara Senior Secondary School
The school established in 1970 is a co-ed CBSE school with a strength of more than 2000 students. It is one of the best schools in the area and ranked #116 among 276 schools in India according to Education World – India School Rankings, 2018. The infrastructure is not very large as compared to some other schools but this school's emphasis on maintaining their standards of excellence in the given resources is commendable. Students are coached well and the school's academic performance has been consistently good.
School Address: 9/21 Vasantha Press Road, Adyar, Chennai – 600 020
Contact Number: Phone: +91-44-24912510
Website: http://www.srisankaraschools.org/seniorsecondary/
Kendriya Vidyalaya, CLRI Campus
KV schools have a culture of inclusiveness where unity in diversity is taught and inculcated in children. Students learn to value and include people from different states, languages, and cultures. This is so important because our country is one with diversity and yet people have peacefully coexisted and ours is the biggest democracy in the world. Among other KV schools, KV CLRI has been ranked the best in Tamil Nadu state. It is one of the best CBSE schools in the city.
Address: PATEL ROAD, ADYAR, Chennai, Tamil Nadu 600020
Contact Number: 044 2442 1219 / 2491 0897
Website: http://www.kvclrichennai.ac.in/English-Homepage
Bala Vidya Mandir
BVM has a balanced approach to education. In their own words, Indian tradition and western liberalism are harmonized in this institution. The school's philosophy is the holistic development of its students. The education is activity based and lays lesser stress on exams and academic results. Lots of initiatives are taken up around the year. Extracurricular activities like cookery, Innolab, Chess, Global Rhythm etc are available. They have a foreign exchange program, the recent one being a Singapore student exchange program where students from Bendemeer High School Singapore spent three school days with the BVM students. There was exchange of learning on both sides with activities and cultural programs like music and arts, cookery class, a friendly basketball match, robotics, and a visit to A.R. Rehman's studio and institute among others. BVM was ranked #25 on the Education World – India School Ranking, 2018.
Address: #58, B Ramachandra Adithanar Rd, Gandhi Nagar, Adyar, Chennai, Tamil Nadu 600020
Contact Number: 044 2442 4445
Website: http://balavidyamandir.org/aboutus.asp
St. Bede's Academy Santhome
St. Bede's Academy is a part of Don Bosco Institutions run by the Salesian priests and has CBSE affiliation. It is 109 years old, has a big facility, a large playground, and the school has a great sports culture especially cricket, having given rise to some state and national level cricketers. St Bede's emphasis is on all-round development of its students, not only academically but also charity. Students are encouraged to participate in fundraising to help the neighboring fishing hamlets. The school is known for its discipline. The ex-students fondly remain connected to the school and have a close-knit active alumni group.
Address: St Bede's Academy, No. 37, Santhome High Road, Chennai – 600 004
Contact Number: 044-2498 3450
Website: http://www.stbedesacademy.org/
The Hindu Senior Secondary School, Adyar
Established in 1978, The Hindu School is among the best schools in Adyar. The school is known for its high academic performance. Teaching is an activity and project-based. Learning formats include brainstorming sessions and students are encouraged to make power-point presentations to help self-learning skills. They follow the UK based KWL method which is "what I Know, What I Want to know, and what I have learned." There is an equal emphasis on studies as well as sports. The sports facility includes three courts for volleyball, basketball, and badminton. The school is multicultural. Teacher to student ratio is 1:37. There are 75 professional and qualified faculty members who impart quality education. Their 2.5-acre campus has four blocks including classrooms, science and math labs, computer lab, audio-visual room, conference hall, and an open auditorium. True to its name, there is an emphasis on teaching the Hindu culture, values, and traditions to the students.
Address: No.1, 2Nd Main Road, Indira Nagar, Indira Nagar, Adyar, Chennai, Tamil Nadu 600020
Contact Number: 044 24901836
Website: http://hsssindiranagar.edu.in
Sishya School
An ICSE syllabus school, Sishya is a very sought out school, ranked 10th among 276 on the Education World – India School Ranking 2019-20. Established in 1972, it has grown from just 28 students to a 1000 today and two branches. Their academic performance is on par with the best in the city. The school has an emphasis on art and culture and hosts an annual event called Sishyamrita. It is a two-day inter-school event where other schools of the city are invited to participate in a variety of programs like dance, music, art and creative writing. Another such event is SishMUN, the school's annual conference "Model United Nations". It is an event organized and hosted by the students themselves with participation of over 900 delegates from all over the country and even abroad. They also have an annual fundraising fair at the school grounds called Sishya Fete with food stalls, sideshows, games, raffle draw and more is on offer to enjoy.
Address: 2nd St, Padmanabha Nagar, Adyar, Chennai – 60002
Contact Number: 044 2491 2652
Website: http://www.sishya-admission.com/
St Patrick's A.I. Higher Secondary School
A centenary institution run by the Patrician brothers, this school was established in 1875. It has a large campus with lots of greenery. Good facilities and good faculty members. The academic performance over the years has been exceptional. Overall development of children including their physical, intellectual and emotional gifts is the focus of the school. In the HM's own words, his aim is to develop future citizens who are ethically sensitive towards the society they live in and to adequately equip the children with noble qualities, moral values, and intellectual expertise to succeed in life. The institution's motto is "Ora et Labora" meaning pray and work.
As far as events, the school has a lot of activities, a science club called "Kalam Atomic Science Club," the English department has formed a Shakespearean Society, and a social science club called "The Sangam Club." Overall parent and student reviews for the school are excellent.
Address: 1st Crescent Park Road, Gandhi Nagar, Adyar, Chennai – 600020
Contact Number: 044-24420209
Website: http://stpatricksschool.in/
St Patrick's High School (ICSE)
Since its inception in year 2009, the school strives to give its students a value-based education. The facility has 21 classrooms, a science lab, a computer lab and separate rooms for art, music, dance and two multi-purpose halls. There is a state of the art ICT laboratory to help foster technical skills, a spacious playground, and a well-stocked library.
Address: No. 11, 1st Crescent Park Road, Gandhi Nagar, Adyar, Chennai – 600020
Contact Number: 9487910828
Website: http://www.stpatricksicse.com/index.html